Why I loved The Ham Yard Hotel in London
It was a grey, somewhat foggy Saturday afternoon in late January as we pulled up outside the Ham Yard Hotel right in the heart of London's Soho. We'd dropped the children and spaniel puppy off en route, to spend the weekend with their cousins. It had been a chaotic and somewhat stressful rush, to be honest. Part of me was wondering why we hadn't opted for a relaxing drive to the coast and a weekend of laid-back bliss at a seaside bolt hole, instead of hopping on a train to London.
It's all about inspiration
As soon as we'd set foot inside the Ham Yard Hotel's reception area, however, I knew we'd done exactly the right thing. Inspiration. That's what excites me on a stay away. And as soon as I'd taken in the fresh yellow spring flowers artfully arranged in a myriad of different vases on the reception table, I was away. Before we'd even finished checking in, I'd already fallen in love with the host of varied woven pendant shades hanging from colourful flexes above a light-filled afternoon tea terrace. The intricately woven rainbow thread art installation by Hermione Skye O'Hea which hangs above reception is truly beautiful.

Designed by Kit Kemp
This hotel is not about fashion, style for style's sake or conspicuous consumption. Instead it exudes quality, comfort, individuality, stories, art and expression. Fabrics, artwork, colour and materials are mixed with a bold confidence and it really works. The designer in question is Kit Kemp who co-owns the hotel with her husband Tim, along with other hotels in the Firmdale Hotels group.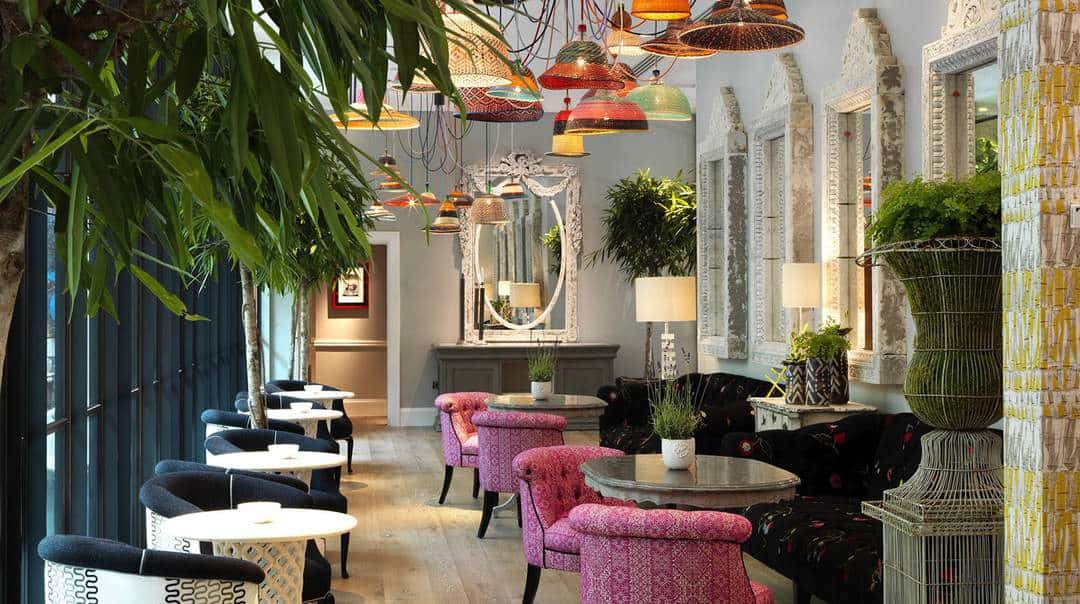 Our room was lovely, combining the same individual mix of artwork, luxurious fabrics and joyful colour. The only slight negative was the view – we looked directly into office windows, so close we could see the pencils in jars on the deserted desks. Thankfully the offices were empty for the weekend, but I would have felt really claustrophobic on a working week day without the blind down.
That aside, everything else hit just the right note.  TV in the bathroom was a particular delight. I flicked through until I found The Barefoot Contessa and lazily watched as she made something delicious with chicken and 40 cloves of garlic whilst soaking myself in fragrant bubbles sipping champagne. I love Ina Garten's New England cookery TV shows, despite (or maybe because of) the gallons of cream and generous mounds of butter she lavishes on her recipes.
Time to spa
My lovely husband had booked me an aromatherapy massage at the hotel's Soholistic spa, so I opted to have the therapist deep massage my stiff shoulders. My therapist waged war on my knotted muscles and un-knot them she did. Anyone with permanently stiff shoulders will understand this bitter sweet pleasure.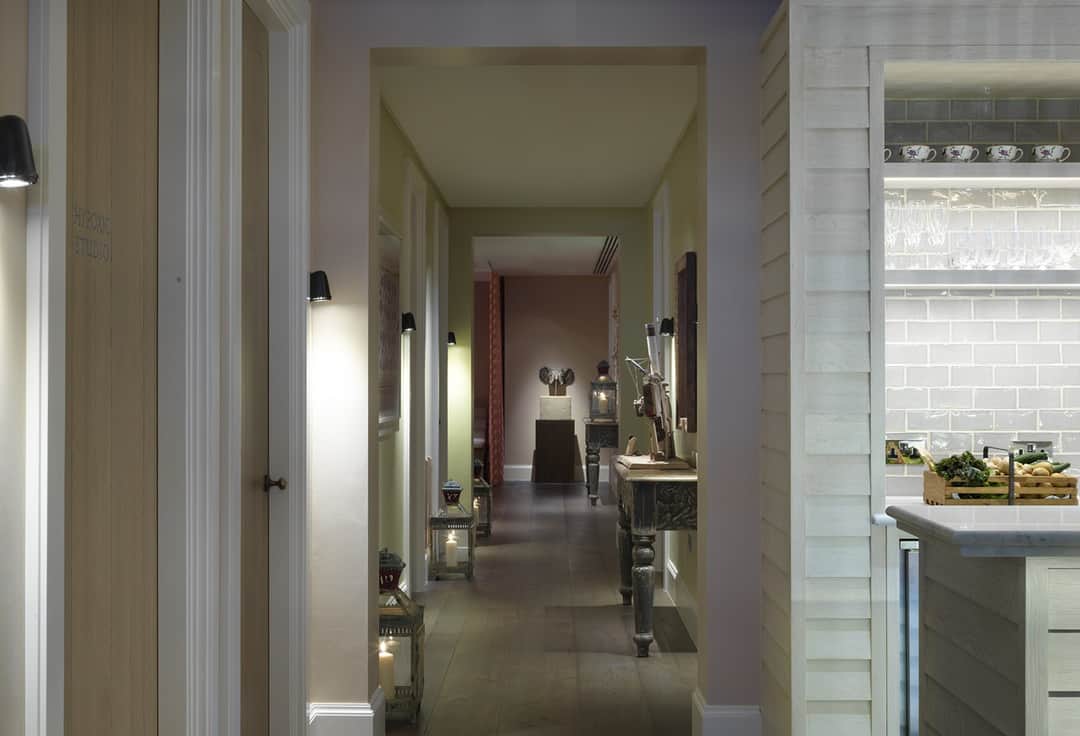 Fully unwound, and feeling very fortunate indeed, we spent the rest of our afernoon strolling around town, sipping champagne cocktails in the hotel's buzzing bar, before taking our seats at The National Theatre's production of Warhorse at The New London Theatre. We weren't the only ones to wipe away the tears when Joey and Albert were re-united.
Back to our room and a complimentary essential oil pillow spray was a lovely touch. Along with a full size tube of luxurious Gardenia Greenleaf hand cream from Kit Kemp's Zig Zag range of toiletries and a hand-written welcome note. Attention to detail. It goes a long way with me.
After a really good breakfast (I have to stop myself trying absolutely everything on the buffet) we had a leisurely walk. There's a small 'village' of artisan shops around the Ham Yard itself. My favourite was great little tea shop My Cup of Tea (below).
I enjoyed browsing the fab Chinese supermarkets in China Town and came home with a bag of finds. Not entirely sure what everything is, but it will be fun finding out.
All in all a great couple of days and I thought I'd share some snaps I took along the way.
Here's a short film where Kit Kemp shares the inspiration behind her designs for The Ham Yard. There's a peek inside the rooftop garden too