This month features writer Clare Kelly finds out how to make your own perfume with The Cotswold Perfumery. Discover how she creates her own bespoke fragrance
Finding the perfect signature perfume can be a mission without end. Perfume is expensive and while one fragrance might smell divine on your friend, it just might not suit you; so creating your own bespoke perfume could be the key.
The Cotswold Perfumery in pretty Bourton On The Water is a very special business indeed. Occupying a 300-year-old Grade II listed building; it is both a factory and a shop, with the addition of a special perfume lab where courses take place.
I was signed up to do Create Your Own Perfume – Level 1, and arrived early to look around the shop. To the back is the factory where owner and head perfumer John Stephen leads his team in creating fine fragrances. Top perfume houses in the UK they work with include Czech & Speake.
John's father started the business in 1965 but circumstances meant that it was John himself who lead the Perfumery to the success it is today. Courses are always well attended, as mine is, by all ages keen to learn the secrets of scent.
The science of scent
A science lesson is the first part of this course and John talks through the properties of the raw materials we will be using. This gives us a better understanding of how these combine to make perfumes. Making a scent is a little like making music – top, middle and base notes together create a symphony. But it is you who must conduct it, and of course John is on hand to help.
Garden ingredients
Once we have learned the 'science' part, we are taken into the garden to learn more about natural ingredients. We discover how they can be used to create scents not only to wear; but also for domestic purposes. Fragrance for cleaning products, for instance is an important part of the perfume industry.
After a delicious lunch at The Dial House just across the river, we head to the lab to create our own signature scent. This can be a little overwhelming as there are literally hundreds of oils to choose from. Each one is to be used in moderation we are told. Using a glass pipette, each drop must be weighed and noted down so that your 'recipe' can be recreated at a later stage.
It was fun to experiment and quite incredible how each scent combines to create something entirely different. As in any lab, safety is key and goggles are worn to protect the eyes. John encourages each student to experience all the scents (bizarrely, some of the scents I liked least were used in top fragrances!). Rather like cooking, you can add to your perfume but you cannot take away, so it's wise to exercise moderation.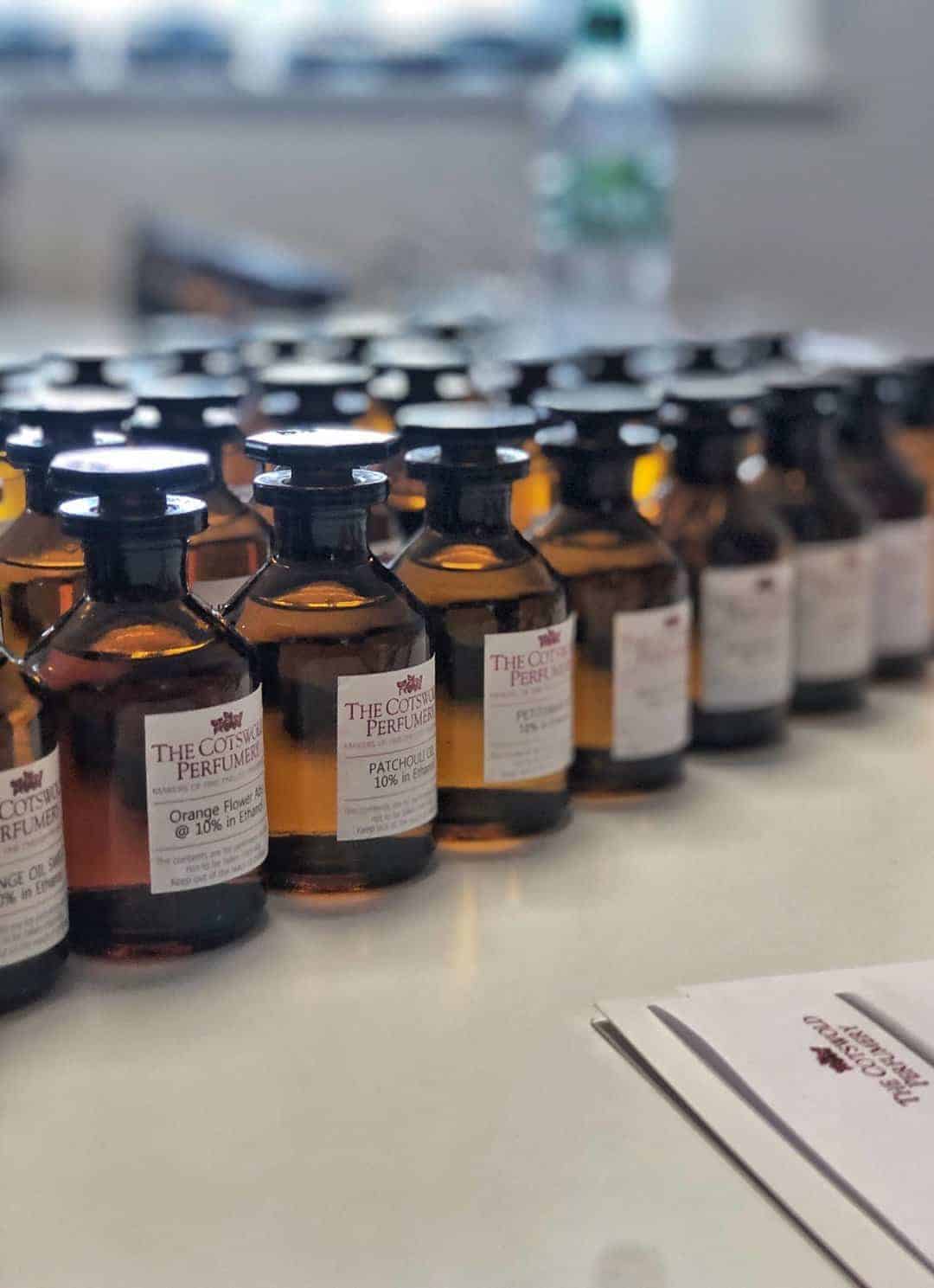 The From Britain with Love fragrance
Everyone in the group was concentrating hard on their bespoke fragrance and John was able to recommend ways to improve each one – something you can surely only do when as experienced in the art of perfumery as he is.
After an hour or two, I had created a light, citrusy fragrance using bergamot, sweet orange oil and orange flower absolute, which in my opinion smelled pretty gorgeous. And what did I name it? From Britain with Love of course!
How to make your own homemade natural perfume
Inspired by my day at The Cotswold Perfumery, I've been inspired to experiment further with making my own natural perfumes.
The simple idea is to blend natural essential oils to create a fragrance you like and then add pure alcohol to preserve and help the scents meld together.
We learned at the workshop that the key to getting the fragrance right is to add top, middle and base notes.
Top notes to consider include Bergamot, sweet orange, neroli.
Midde: Rose, lavender, chamomile and geranium
Base : cedarwood, ylang ylang, vetiver, frankincense, sandlalwood
My own favourite recipe is:
15 drops of Sandalwood and ylang ylang oil
25 drops of rose, lavender and geranium
15 drops of neroli and bergamot
4oz of pure alcohol
(you can buy ethanol but I use vodka because we don't drink it and have a bottle sitting there – works fine!).
Method: mix all the oils together in an opaque glass bottle until you're happy with the balance. Leave the mixture to sit for a few days to mix and settle in together.
Add the alcohol and close the cap tightly
Shake well and leave in a cool, dark place for at least a month. This helps the alcohol scent to fade and the oils to intensify.
You can also add the essential oil mixture to an unscented carrier oil (such as sweet almond or sunflower) to make your own fragrant massage/body oil.
Or try adding to whipped up shea butter to make a body moisturiser like this one I made with cult London beauty duo Liha >>
A pin to save to Pinterest
Get all the info you need to connect with Cotswold Perfumery from the listing now >>
Feeling inspired? Take a look at the Creative Workshops category in our Directory, where you'll find a variety of inspiring courses, from art and crafts to fashion and beauty, interiors, cooking and flower & gardening.
If you run a creative course that you think our readers would be interested in reading about, please let us know by emailing editor@www.frombritainwithlove.com.
Clare Kelly is a freelance craft journalist and photographer (www.cargocollective.com/clarecatherinekelly) and author of the blog Pass The Pattern. All images courtesy of Clare Kelly.