How to make felt slippers
This month writer and stylist Rachel O'Brien headed to the Fluff-a-torium in Dorking. She learns how to make felt slippers with felt guru Gillian Harris, aka gilliangladrag.
Follow the step by steps and create your own super-cosy felt slippers. There are also lots of expert tips from Gillian herself as well as ideas to inspire you in the gallery at the bottom of the post too. Hope you enjoy!
"The shoe repairer did look at me a little bit quizzically," says master Fluff-a-tier Gillian Harris. She is describing the time she took a pair of felted slippers to the shoe menders to be soled. Clearly not everyone is as well versed in the joys of felt as Gillian.
How to make felt slippers
Gillian has turned felt-making into an art form and her creations have graced the pages of many a magazine. Her felt-making kits are for sale in John Lewis and Liberty. Gillian's books are available in several languages and on sale around the world.
As a keen knitter myself, I'm used to working with wool but I have never tried making felt before. So this wet-felting workshop is to be a voyage of discovery for me. Not one to turn down a challenge, I make my way to Dorking and Gilliangladrag's Fluff-a-torium. I would be learning how to make felt slippers.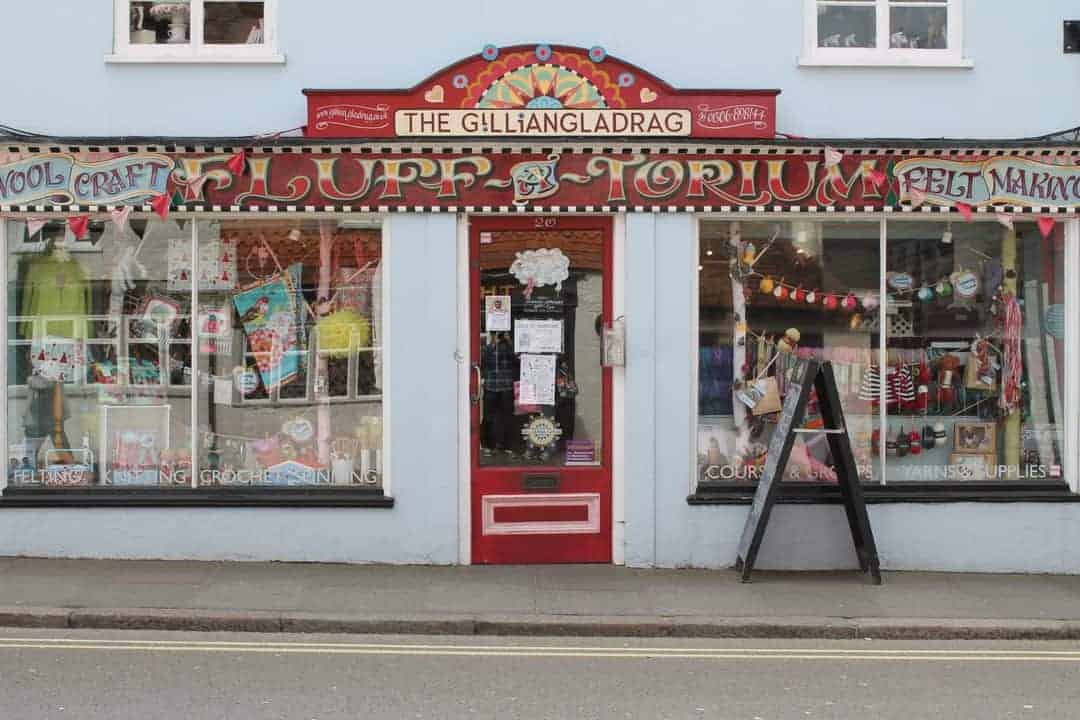 The fluff a torium
A short walk from Dorking West train station, the Fluff-a-torium is easy to spot. The facade is bright and quirky with festoons of felt bunting.
Inside is just as inviting. Shelves, stands and cabinets are filled with balls of wool, ribbons, buttons and all manner of felt items. I immediately feel abuzz with creative energy.
Gillian Gladrag
The felting workshop is to be held upstairs in Gillian's studio. Myself and the three other students are keen to get started as we take in the array of rainbow coloured slippers.
After a cup of tea and a chat, Gillian gives us a step-by-step demonstration. She describes the various styles that we can cut our finished slippers into. We can go for mules, booties or ballet pumps with different sole options.
How to make wool felt
Handmade felt is made from sheep's wool called wool tops or roving. Sometimes it is also referred to as wool fleece, and has been cleaned and combed. To make felt, the wool fleece must first be rubbed with soap and water so that the fibres begin to join.
The material is then 'fulled' – a process which shrinks and hardens the wool to make it thicker. By the end of the day we would all leave the Fluff-a-torium with a pair of shoe lasts covered in wool fleece to 'full' in our washing machines, ready to shape and decorate at home.
To make our slippers we first need to cover the polystyrene shoe lasts with three layers of wool fleece. Spoilt for choice, I finally settle upon lilac for the first layer, fawn for the second and a dark purple for the outer.
Covering the shoe lasts
Gillian sells the polystyrene slipper lasts we used here To be honest, they're a bit too boot-like for my taste. I have found this really useful tutorial to make your own lasts using tape and old plastic bags – which you can adapt to your own foot size and required shape.
Laying one of my shoe lasts on its side, I start to tease out strands of lilac wool fleece and lay it on top. With a piece of polyester netting covering the last, I spray it with soapy water and rub until the wool is firmly in place.
I continue the layering process until the last is completely covered and resembles a 'bearskin' as Gillian describes it. We repeat this for the other shoe last and for our second layer, before taking a much needed break for lunch.
Adding designs
After lunch we add our third and final layer of wool fleece. As we would be applying our designs on top of this, we only rub the wool fleece gently this time.
Once our designs are in place we rub firmly for around 10 to 20 minutes. This is to ensure the fleece and any decorative felt is secure.
Watching Gillian, working on a pair of felted slippers throughout the day, she effortlessly creates a simple floral motif around hers. I opt for a similar design.
Using oddments of wool fleece in complementing colours I create five or six 'roses' around each last and then apply soapy water and rub until they were in place.
Throughout the day the atmosphere is very relaxed. Gillian also demonstrates how to make needle-felted roses to decorate the slippers so that we can make them ourselves at home.
Rubbing with soapy water
Back home, I continued to apply soapy water and rub my shoe lasts until the wool fleece was firm. Apprehensive, I put both lasts into the washing machine along with a pair of old jeans to add friction.
With the slippers rattling around I was quite worried about how they would turn out. However I followed Gillian's guidelines and kept them in for a second wash and spin to toughen them even more. With the wool now fulled, I carefully cut out the slipper shape and removed the polystyrene moulds. Now it's time to allow the slippers to dry out.
Decorations to try
Gillian showed us how easy it is to make felted wool roses and flowers to decorate our slippers if we wanted to. I decided to keep mine simple, but if you feel like adding a felt rose, it's really easy. Just cut a length of felt in your chosen colour and then wind around, starting with a tight wind at the beginning and then loosening out the outer 'petals' as you go. Hold the base tightly as you go and secure with a few stitches underneath. Then simply stitch on to your finished slippers.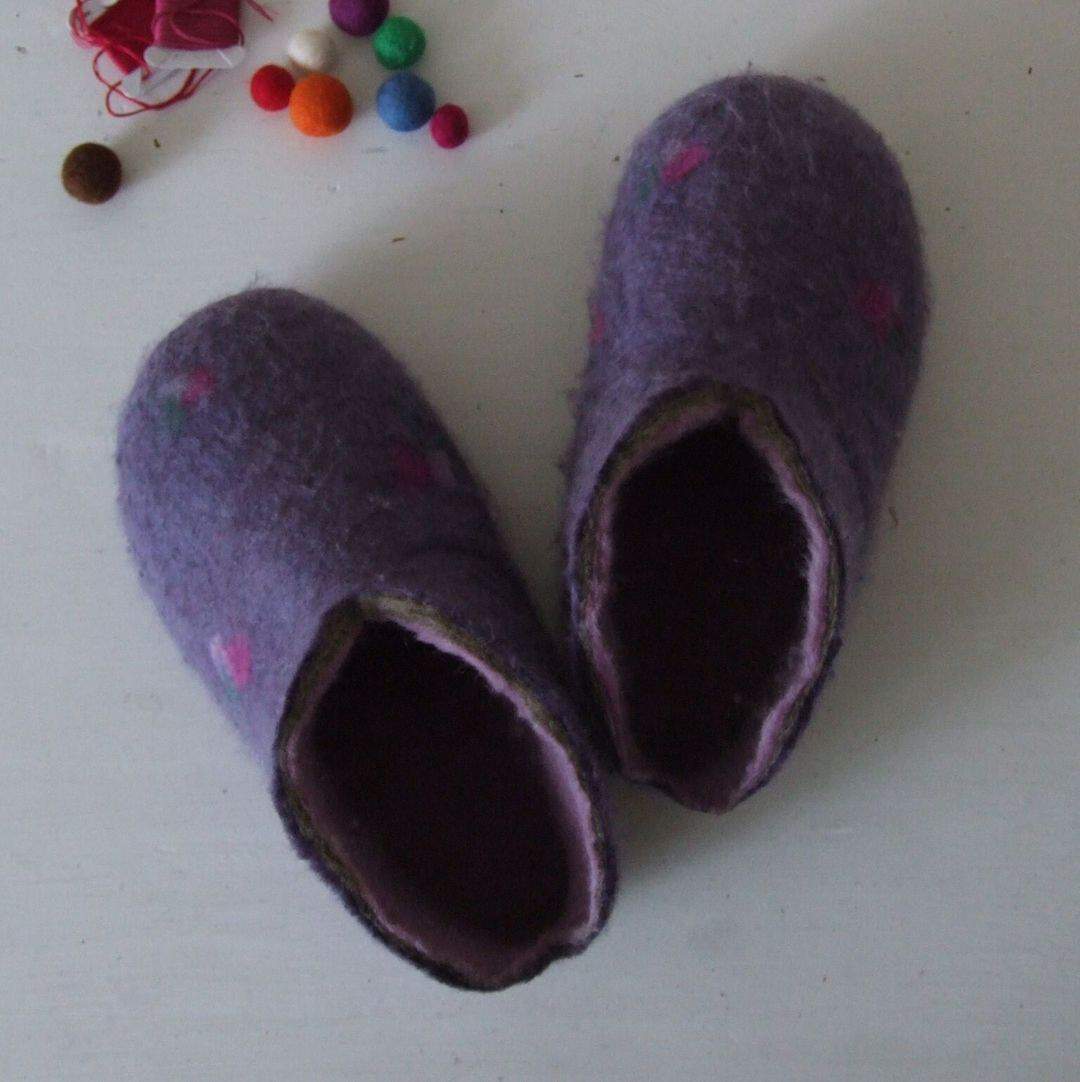 The finished result
The result is a beautiful pair of cosy lilac slippers with pretty rosebuds. They are perfect for warming my toes in front of the fire this Christmas.
This one-day course is ideal for anyone wanting to try their hand at something a little bit different. The making process is quite unusual and the finished product is truly unique.
Alongside felted slipper workshops you can also learn how to make felted bags, jewellery, hats and pictures. All I have left to do now is have my slippers soled. I think I'll brave my local shoe menders… I wonder how he will react?
Buying the materials online
Gillian's online shop has many of the materials you need to make your own pair of slippers. Her felt slipper kit is perfect if you want an easy project to get stuck into.
The slipper lasts are also available to buy from Gillian's shop
Felt and suede soles are available to buy too
Natural British carded wool is available to buy on Etsy here
Above: beautiful seaweed-dyed Shetland wool for felting is available to buy on Etsy here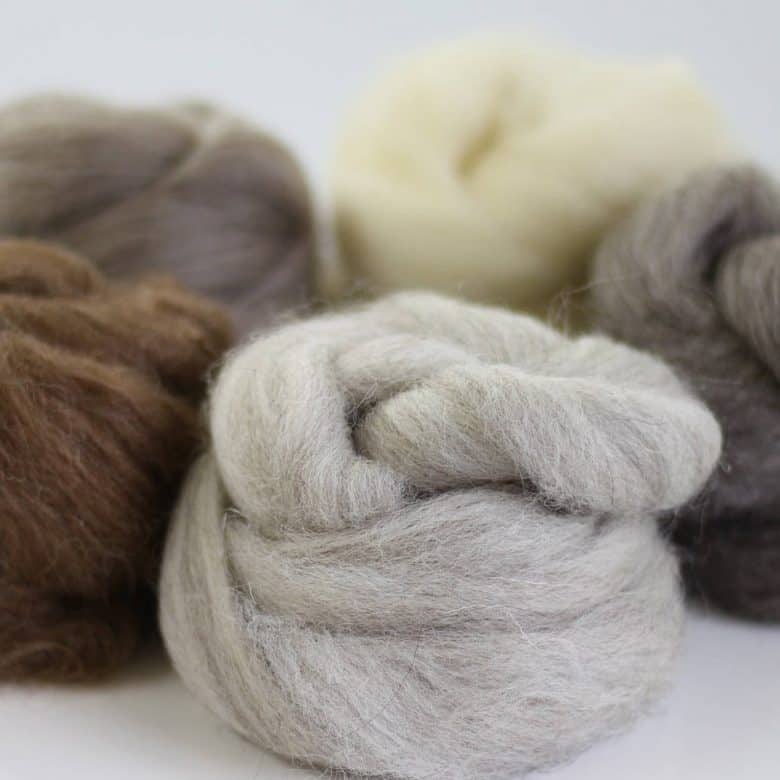 British Breeds natural felting wool
Ideas to try (or buy!)…
Now I've had a go at making my first pair of felt slippers, I'm looking for inspiration and ideas for my next pair…! What do you think of these ideas I've found? I reckon they are all do-able following the same basic technique with a few moderations here and there – which would be part of the creative fun. They are also available to buy if you just fancy going down the easy route… You could always tell yourself it's creative 'research' for the next pairs you'll make yourself!
Wild Llama felt slippers are made completely by hand using eco-friendly, non-dyed wool, hot water and soap. I've picked out my three favourites:
How cute is this dotty pair?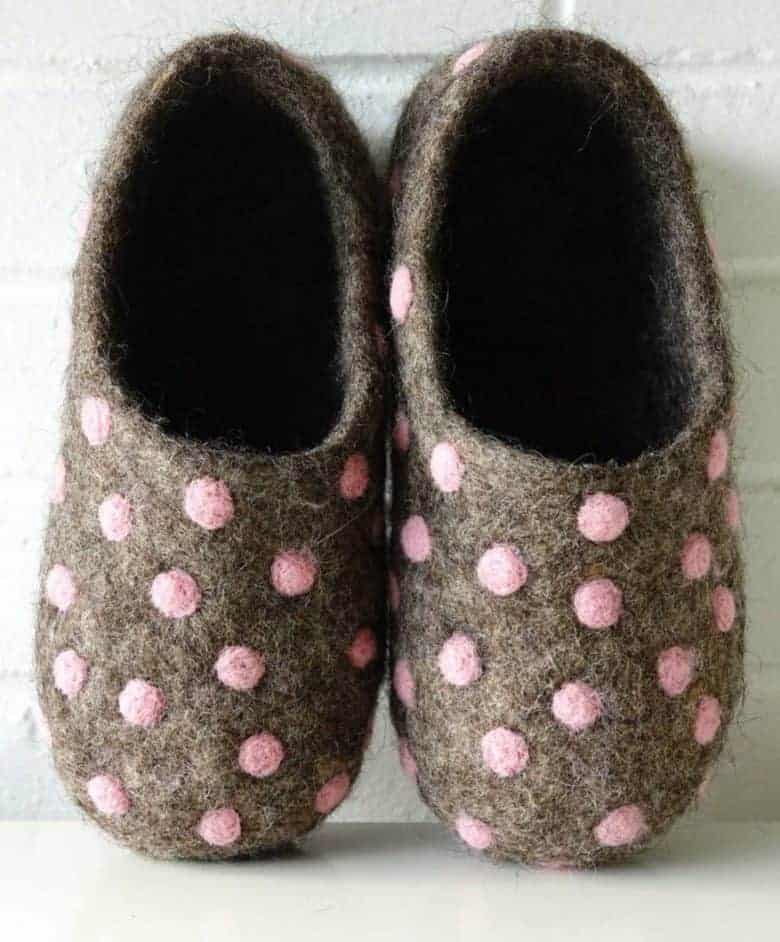 I really like what adding a few rows of simple stitching adds to this pair…
Last pair from Wild Llama: grey wool with smaller yellow dots. There's a scandi feel to this design that I love.
It's the beautiful embroidery that sets these slippers apart. Just lovely.
BUY EMBROIDERED FELT SLIPPERS ON ETSY NOW
And aren't these grey flower felt slippers with pretty daisy flower decoration just lovely? I like the cutaway design at the sides with a little bit of inserted elastic – worth bearing in mind for making your own.
BUY GREY FELT WOOL SLIPPERS WITH FLOWER DECORATION ON ETSY NOW
And for an extra cosy touch, how gorgeous are these grey felt slippers with sheepskin lining?
Hand felted slippers from British wool with rubber soles.
My pick would be these lovely dotty slippers with contrasting wool lining.
It's the slightly more clog-like shape that I like about these slippers. They're more cut away at the back and I do really love the subtle contrast between the darker outside and pale inner lining. Again, they're handmade using British wool, soap and water.
Love the design of these beauties too – almost a Birkenstock shape with pretty orange and navy wool daisy/flower decoration.
All handmade in their Edinburgh felting studio, this is a treasure trove of handmade wool felted loveliness – including slippers. I love these Thistle design slippers – the perfect Made in Scotland gift!
There's a rainbow selection of handmade eco felt mule slippers from Aura Que – all with suede soles.
I really love this collection by Aura Que – and they have suede leather soles. That's definitely a step on from what I've made myself so far, but it would mean you could wear your slippers so much more…
INFORMATION
---
Get all the info you need to connect with gilliangladrag from the listing >>
Feeling inspired? Take a look at the Creative Workshops category in our Directory, where you'll find a variety of inspiring courses, from art and crafts to fashion and beauty, interiors, cooking and flower & gardening.
Gillian is the author of felting books: Complete Feltmaking
and Carnival of Felting
Rachel O'Brien is a freelance writer and stylist. All workshop images courtesy of Rachel O'Brien.
If you run a creative course you think our readers would be interested in reading about, do get in touch. Email us at editor@frombritainwithlove.com
This article contains affiliate links, which means we may earn a small commission if a reader clicks through and makes a purchase. All our blog posts are independent and in no way influenced by any advertiser or commercial initiative. By clicking on an affiliate link, you accept that third-party cookies will be set.
---
A pin to share to Pinterest