Hello Fresh tried and tested.
When From Britain With Love editor Nicky Sherwood was asked to review a HelloFresh meal box, she was so impressed she signed up for a weekly delivery. A year later she's still a huge fan and explains why the HelloFresh concept is perfect for busy families. We have a unique discount link for you to save £10 off your first box at Hello Fresh.
I'd never heard of HelloFresh when I was asked to review one of their meal boxes, but as soon as we tried one we were hooked and we've been receiving our weekly box of culinary delights ever since. Shortly after signing up, I was diagnosed with breast cancer and spent most of 2014 having surgery, chemotherapy and radiotherapy. During my treatment I made a conscious effort to support my immune system through healthy eating, and having our weekly box delivery made this a much simpler task. Having our HelloFresh box delivered meant that I didn't have to worry about food shopping, and my husband could get home from work and whip up a tasty and nutritious meal in no time if I wasn't feeling up to it. Of course, you don't need to have cancer to benefit – HelloFresh is perfect for busy families or working couples too – and we will certainly continue with our box delivery now that I am well on the road to recovery.
So here I thought I would share my top 10 reasons for subscribing to HelloFresh:
1. Convenience
Unlike a veg box scheme, a HelloFresh box contains everything you need to create three complete meals, all delivered to your door. So there's no menu planning or supermarket shopping required. Result!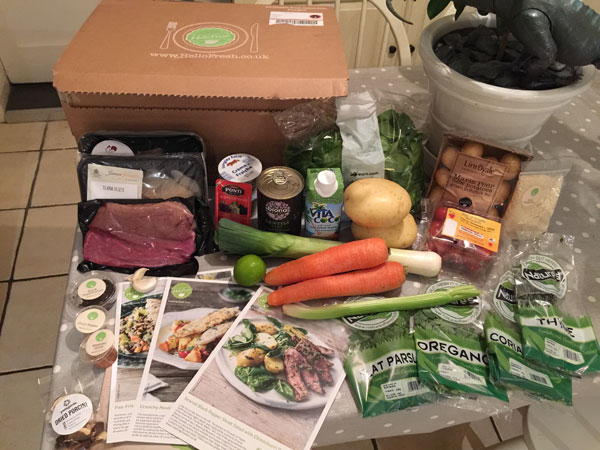 2. No wastage
The box contains all of the ingredients you need along with recipe cards featuring step-by-step instructions. But this is no ready meal – you prepare and cook the ingredients yourself, but the hassle of buying the ingredients and weighing them out has all been done for you. There is no wastage as everything is provided in exactly the right quantities for the recipe, so there's no half finished packets left lurking at the back of the fridge.
3. Sustainability
All of the fresh ingredients are sustainably sourced from independent UK suppliers. The meat, vegetables and salads are more akin to what you would buy from a farmer's market than a supermarket and its reassuring to see the name of the farm or supplier on the pack.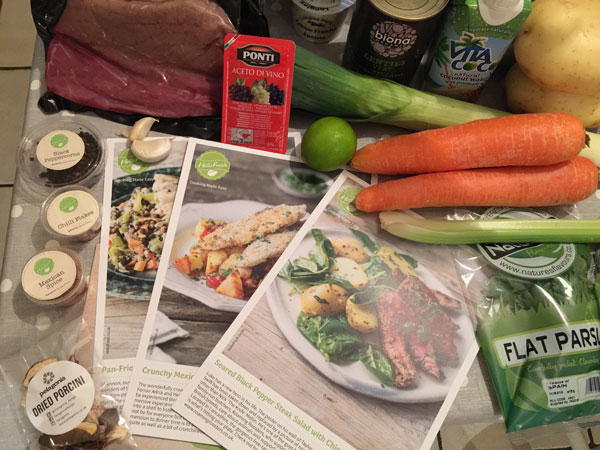 4. Nutrition
The meals are all nutritionally balanced with a good combination of protein, carbs and plenty of fresh vegetables, making it an easy way to get your 5 a day.
5. Speed
Each meal takes around take around 30 minutes to prepare and cook, making them perfect for midweek after-work dining.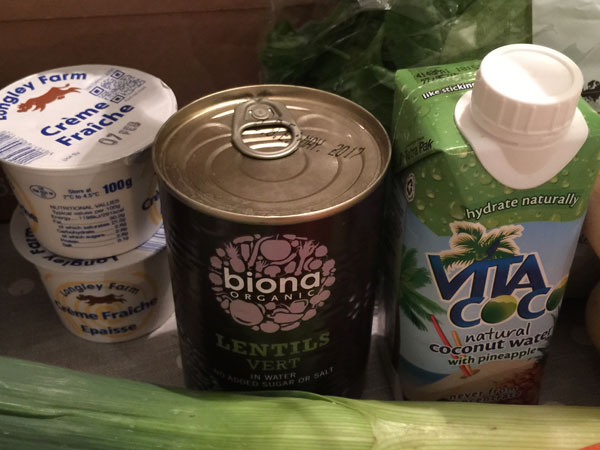 6. Flavour
As well as the more familiar ingredients, the boxes often contain some more unusual ingredients – this week we had panko breadcrumbs, dried porcini mushrooms and coconut water. Its fun to try out new ingredients while the easy to follow instructions mean there's no nasty surprises. The recipes also contain fresh herbs which are a real luxury and makes such a difference to the overall flavour of the dish, as well as the presentation.
7 . Price
Quite simply, you couldn't buy all of the ingredients for these meals in a supermarket for the £39 per week that the box costs. It also puts and end to those (generally unhealthy) impulse purchases that tend to happen when trekking round the supermarket.
8. Leftovers
The portion sizes are extremely generous and we find that there is usually enough left over for lunch the next day, which is perfect when you work from home and want a quick and easy meal.
9. Learn new skills
One of the great things about the recipe cards is that you learn new ways of doing things, and can then use those techniques in your own cooking. Having the recipe cards to refer back to is useful too as you can always make the meals again – we've served many a HelloFresh recipe scaled-up in size for a dinner party. (Note to HelloFresh: please can you provide a binder for the recipe cards?!)
10. Community
HelloFresh are very active on social media and if you so wish you can post pictures of meals you've made (like ours above). There are also 'how to' videos and it's handy to see what meals are coming up next week in your facebook news feed.
Want to try out HelloFresh for yourself? Simply visit www.hellofresh.co.uk to find out more.
EXCLUSIVE OFFER: Follow this discount link and save £10 off your first Hello Fresh boxes. Happy cooking!