Nicky Sherwood tried out a Hello Fresh ingredients home delivery box and was so impressed she signed up. Now we're sharing the love with an exclusive discount code: simply visit https://www.hellofresh.co.uk/plans/?c=OS10OFF to save £10 off your first box.
---
When I was asked to review a Hello Fresh box, I have to admit that I assumed it was a kind of veg box scheme. How wrong I was! Hello Fresh is so much more than that. It's essentially a very smart looking box which is delivered to your door and contains everything you need to create three meals.
What's included
The recipes and all of the ingredients are included, right down to the herbs and spices, and everything is measured out in the right quantities. All you need to do is cook them by following the simple recipe cards and serve. Perfect for busy families like mine!
Box clever
Our Hello Fresh box arrived to great excitement in the Sherwood household. There is something about cardboard boxes arriving that sends small boys into a frenzy and it was all I could do to quickly photograph it before my sons tore it open. The box came with a warning on the side 'Caution: Contents may be extremely delicious'!
Tardis-like, the box was opened to reveal a colourful array of fresh vegetables, meat and fish sourced from independent British producers. There were also dry goods, tins, herbs, spices and little extras such as miniature bottles of Tabasco and Chilli Oil.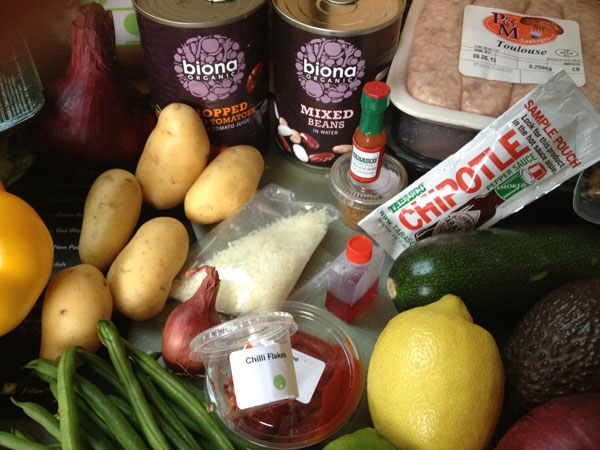 The recipes
Accompanying the ingredients were three well-designed recipe cards, clearly showing which ingredients should be used, with step-by-step cooking instructions. Every Hello Fresh recipe takes under 30 minutes to prepare and cook, which is another bonus for busy working parents. Our box contained recipes for Tuscan Pork Linguine with Courgettes, Chilli and Lemon; Butterflied Mexican Chicken with Homemade Refried Beans; and a Smoked Mackerel Summer Salad with Green Beans and New Potatoes.
At this point I have to confess that I can't take any credit for the cooking as it was my husband who did the honours. I am very spoilt as he is a wine buyer does all of the grown-up cooking and food shopping. Every night I'm treated to a delicious dinner with a perfectly-paired wine sample that he's brought home from work. Needless to say, he has an amazing palette and is very choosy about ingredients and flavours.
Farmer's market quality at supermarket prices
Not usually one to follow a recipe, I asked him what he thought of the Hello Fresh 'experience' and he was very impressed. In fact it was he who suggested that we sign up for a weekly box delivery. Three meals is just enough to give you the flexibility to eat out on other days, or have a Sunday roast at the weekends. The ingredients were very generous for just two people, and we had chicken, sausages and plenty of vegetables left over to use later in the week. All in all I'd say the box is really good value for money.
I asked my husband how much he thought the box cost and his reply was "hmm it's got to be at least fifty quid". Well, the good news is that it costs just £39 including delivery for a three meal box, meaning each meal costs just £13, or £6.50 per head. You simply couldn't buy the ingredients in the supermarket for less, and we love the fact that the veg, meat and fish all comes from independent British producers. In fact their motto is 'farmer's market quality at supermarket prices'. It's all good stuff and we're happy to put our money where our mouth is and sign up!
If you'd like to try a Hello Fresh box for yourself, visit this unique discount link https://www.hellofresh.co.uk/plans/?c=OS10OFF to save £10 off your first box Happy cooking!