Meet Gabrielle Treanor, the overthinkers' coach (listed in our directory here)
I first came across Gabrielle's inspiration-filled site when languishing in bed with a heavy post-Christmas cold. Gabrielle had just launched her Warm Embrace ecourse and I signed up, feeling more than a little sorry for myself. Her kind and positive voice popping into my inbox each day with inspiring and comforting messages really cheered me up. They also helped me to focus on the positives in taking time out of the usual daily routine, rather than feeling guilty about being ill.
There is a wealth of material on Gabrielle's website to comfort and inspire and to help you find ways to worry less for life. When I discovered that she lives in the Brecon Beacons, I wanted to know more about her daily life and inspirations. Hope you enjoy this glimpse into Gabrielle's kind and beautiful world.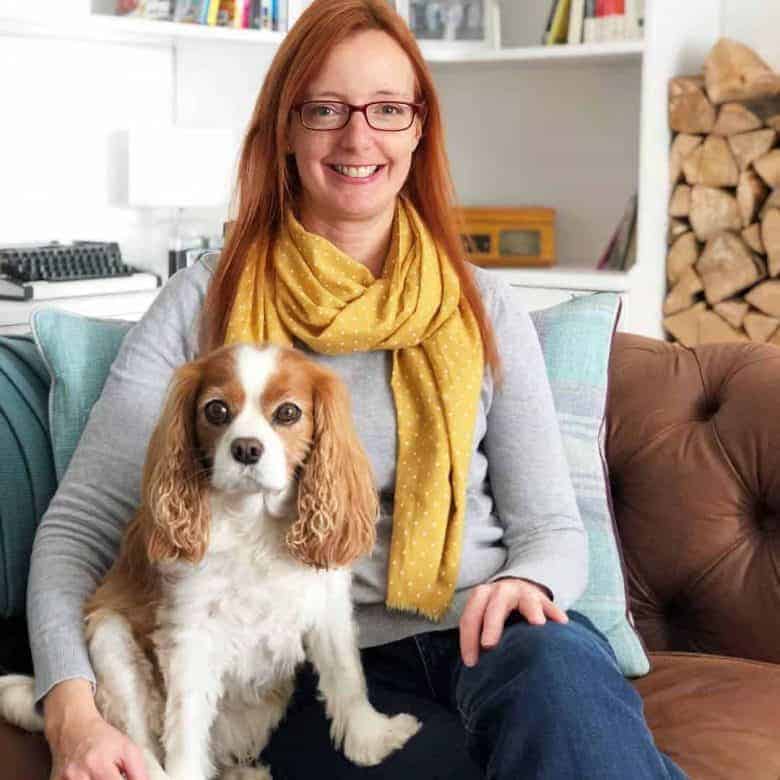 Please describe what you do, why you do it, and a little bit about your journey
I help overthinkers to worry less and enjoy life more through one-to-one coaching and my online courses. I also host a weekly podcast called Pressing Pause – the podcast for overthinkers. And I write for mindfulness and wellbeing magazines such as Breathe, In the Moment and The Simple Things.
I've been a worrier all my life and a few years ago I discovered the world of positive psychology which changed everything for me. Everything I read and learned about mindfulness, gratitude, self-compassion, savouring, meditation… I tried out on myself to see what it was like, how it felt and what helped me to spend less time lost in my head going over and over thoughts and more time in the real world, enjoying life as it's happening. Because what I learned and experienced has made (and continues to make) such a difference to me I wanted to share it with other people who feel the way I did and who want to feel lighter and more free, less weighed down by overthinking.
Please describe what you offer and your ethos
I share how you can worry less and enjoy life more in several different ways. I create free content such as the podcast, my Facebook group, blog posts, the resources section on my website, my weekly emails and social media posts. I create a range of online courses from self-study on one topic, such as my beginners' meditation course, Exhale, to the live course – Worry Less for Life – which is my most in-depth, comprehensive course on how you can calm your mind, build resilience and enjoy life more. And I offer one to one coaching so I can work with you on your specific challenges and create an inspiring plan for you to spend less of your time, energy and brain power overthinking, and instead live your life with calm, joy and confidence.
Everything I do is with the intention of helping people who get stuck in their head worrying and missing out on the joy in life, as I did. To feel lighter, freer and calmer. I know what can make a difference from a practical as well as theoretical level and this is what I want to share with as many people as possible.
What's your favourite way to start the day?
I live with my husband and little dog in the Brecon Beacons in south Wales and we start every day with a walk. Whatever the weather we're out there and on the rare occasion I don't go on the walk I feel a bit odd and out of sorts. Then we have breakfast and start work (my husband is self-employed and works at home too).
I try to write my gratitude list (as many things as I can think of to be thankful for each day) and meditate before I get sucked into emails and my to do list. I work in my study, it has a desk in front of a window overlooking the garden, a field and a hill (usually populated by sheep) but I usually sit on the couch (still with the view) with my dog snoring next to me.
What keeps you going through the day?
Remembering to take breaks. When I get engrossed in my work, when I'm in flow, I can forget until my stomach rumbles or I get a dead leg! Getting up for a stretch, making a cup of tea, having something to eat – refreshes me and keeps me going.

What are your top tips for enabling wellbeing?
Number one is being kind to yourself. The compassion and care that you give to others needs to be directed to yourself too. When we beat ourselves up, when we talk harshly to ourselves, when we ignore our own needs, we're making it hard to be our best, true selves. When you're tired, stressed out and feeling pressured you lose patience, you snap. You find it hard to focus and everything feels more difficult.
When you look after yourself you can be the fun, creative, generous, open-hearted, patient person you know you really are. So not only do you benefit from being kind to yourself, everyone else around you – your family, your friends, your work mates – benefits too. When we practice self-compassion we can build our resilience, our confidence and our sense of self-worth.
Favourite season and why?
Spring is my favourite season because I feel that it's filled with hope, optimism and possibilities. Nature is coming to life, the temperature is rising and the days are getting longer. It feels like more of a new beginning than 1 January does.
What do you love best about each season?
I love Spring for its possibilities and hope, Summer for the sunshine and flowers, Autumn for crunchy leaves, misty mornings and wearing cosy scarves, and Winter for nightly fires and cosying up at home.
What do you do when struggling for inspiration?
I stop looking for it. I take myself offline, I go somewhere new, I start a new book, I do something for fun, and I allow myself to daydream. I find that pursuing creativity makes it elusive. When you stop hunting it it's more likely to appear.
What is your favourite flower from each season?
Tulips and peonies in Spring, freesias and sweet peas in Summer, roses and hydrangeas in Autumn, and hellebores in Winter.
Greatest simple pleasures?
Curled up somewhere comfortable reading. It always has been and I imagine it always will be. What makes it better is if I'm either outside in the warm sun (under a parasol so I'm not squinting at the pages) or cosied up in front of a roaring fire, with my husband and pup close by.
What do you like best about where you live?
The landscape – there's the patchwork of fields with crops, cows and lots of sheep of course, with farmhouses dotted around, and then there's also the rugged mountains rising above it all.
Favourite walk and why?
The walk from our house to the next village. It takes in the river, a wooded area, a few fields, a couple of photogenic houses (useful for Instagram!), a graveyard and a couple of pubs.
What are you passionate about right now?
I'm passionate about exploring possibilities and opening up choices for others. Many people think that they're stuck with things the way they are – if they've always been a worrier they always will be – and it doesn't have to be that way. You have more choices than you think and there are possibilities out there for you.
What inspires you?
I'm inspired by other people's bravery and generosity, by the acts of kindness by strangers that I witness, by the books I read and the conversations I have.
Best piece of advice you could share based on your experiences so far?
When in doubt, imagine it's a good friend feeling as you do, experiencing whatever you're dealing with, and think about what you would say to her, how would you treat her? Then do that for yourself.
credit: Forget Me Not Originals
Favourite book of all time and why?
Anne of Green Gables by LM Montgomery. I watched the TV film with Megan Follows and read the book when I was about 12 and was completely smitten. Anne is such a clever, funny, warmhearted and spirited character, a definite inspiration. I ran my own stationery business for seven years and named it the green gables after the book.
Secret to being happy?
There isn't one! Happiness is unique to each of us, it isn't something you can pursue and attain, it's not something you achieve like a goal. We can feel happiness by recognising the joy in the ordinary everyday moments and people in our lives, as well as the big, shiny, exciting things, and savouring them, appreciating them in that moment and committing them to memory.
Your goals for the future?
To help as many people as I can to spend less of their time knotted up in their heads overthinking and more time enjoying their life as it's happening right now. To make the most of this one life I have, to contribute as best I can and to eke out as much love and joy and kindness as possible.
INFORMATION
---
Gabrielle is listed in the From Britain with Love directory here >>
Are you a maker, grower or creative course provider? Like to list with us and benefit from joining our supportive community? We'd love to hear from you. Check out the packages we offer on our Join Us page and get more details from our Information pack here
---
A PIN TO SAVE TO PINTEREST