We visit Dorset wth Philippa Cambers, founder of The Maker Place (listed in our directory here), an online shop which sources well curated contemporary homeware by UK designers and makers. She lives and works in Dorset and we knew she'd have a great eye for choosing special local finds, so we asked her to share a few of her particular favourites with us.
When I moved to Bournemouth, on the East Dorset coast, four years ago, I didn't really know the county at all, but in that time it's become one of my favourite places to spend time and this summer, instead of going away on holiday with the kids, we decided to spend time exploring our home county instead. It's a place where wide expanses of sweeping countryside straight out of the pages of a Thomas Hardy novel, meet with the stunning beauty of the ancient Jurassic coast, so it's possible to have the best of both worlds; a morning strolling across windswept hilltops and then lunch at a beach-side café, followed by a bit of shopping in some great independent shops. Here are just a few of the places that I love – from more well-known attractions to a few lesser-known gems!
Ryder & Hinks and Lyme Regis
Even though I run The Maker Place as my day job, and spend far too long immersed in the world of homeware on a daily basis, I am still always genuinely delighted when I stumble across a new find. So when I visited Lyme Regis for the first time in the summer, one of the highlights of the visit was discovering the beautifully curated homeware shop Ryder & Hinks, which sits inside a gorgeous grade-2 listed double fronted shop near the top of Broad street.
Stepping inside is a little bit like stepping into the pages of a high-end interiors magazine; but one where you can pick up all of the beautiful, tactile pieces and buy them there and then! The owners Alice Meller and Michelle Blyth say they didn't set out to open a shop but that the right property became available to rent and they decided to take a chance. Well, I'd say it paid off as their carefully chosen selection has a little something for everyone, and, with its focus on handcrafted pieces and the use of beautiful natural materials, is right up my street!
My favourite bakery
I really loved Lyme Regis and would certainly recommend a visit, but because I was only there for a few hours, I thought that someone with a little more local knowledge might be best placed to offer the inside-track on where to go if you only have one or two days to see it all, so I asked Michelle Blyth of Ryder & Hinks for her recommendations! Michelle describes Lyme Regis as 'a quintessential harbour town, best appreciated at dawn when you are the only person around, or in the depth of winter with the spray over the famous 'Cobb''(a stone harbor wall which you can walk along – as long as you don't mind the idea of getting splashed when the sea is rough!) In the town itself Michelle recommends making a stop for a loaf of the sourdough bread from the Town Mill Bakery, a meal of fresh scallops in The Fisherman's Wife , followed by a visit to the Marine Theatre, a wonderful independent theatre that sits right alongside the sea.
Out of town, if you have a little longer to spend in the area, Michelle's top tip is to head over to Trill Farm, which not only supplies lovely homewares and beauty products, but also runs courses and offers very tasty lunches and suppers. A word of warning though – if you fancy a visit you will need to book! I'll definitely be going back to try out all of these as soon as possible!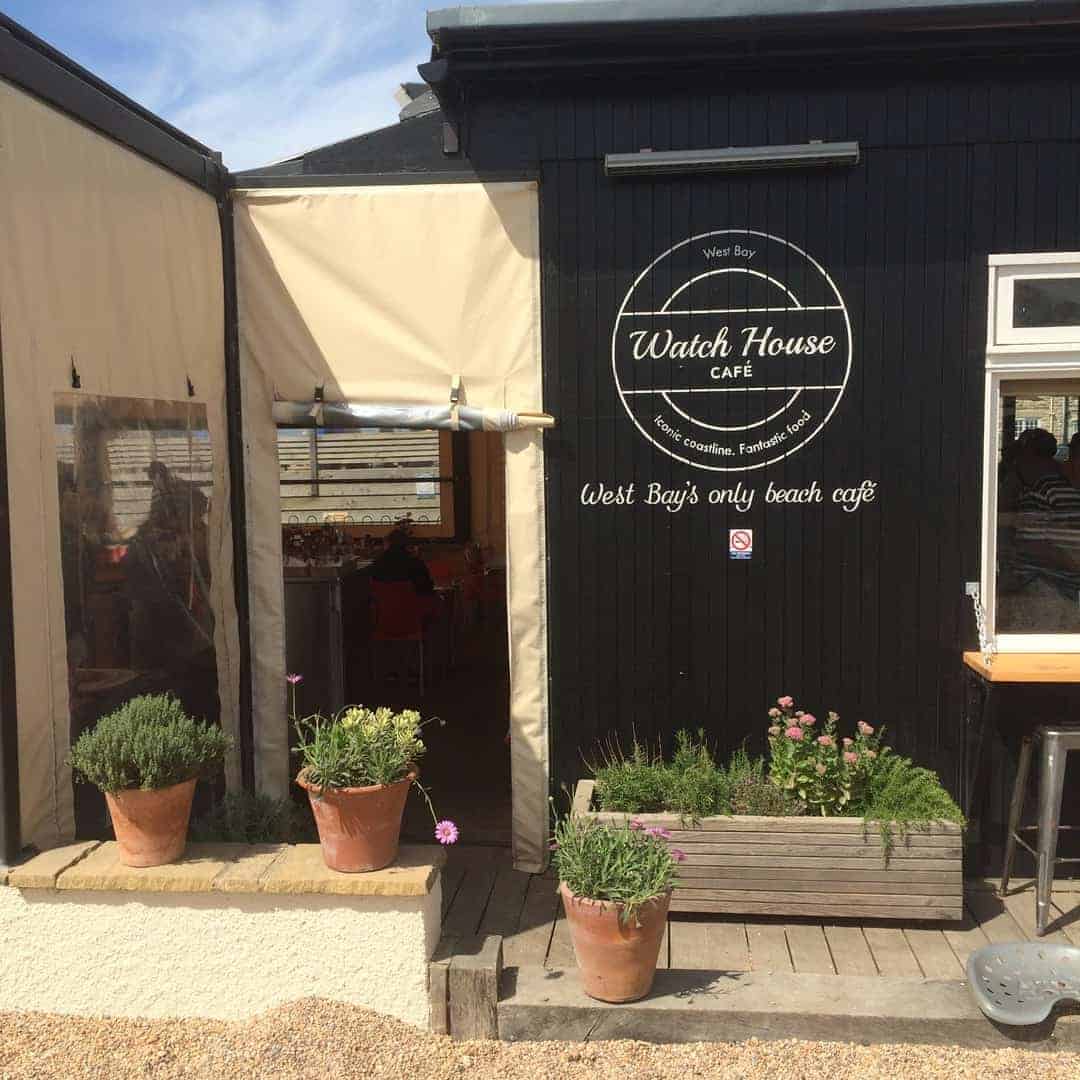 The Watch House café in West Bay
Now, I've got to be honest, I'm not sure I would have visited West Bay if it hadn't been the setting for ITV's Broadchurch; only because the TV series is what has really put this small, and very charming little seaside town on the map. But I'm very glad I did visit and was also pleased to see that Broadchurch mania hasn't spoiled it at all and that it's well worth a visit as a lovely example of a charming little seaside town!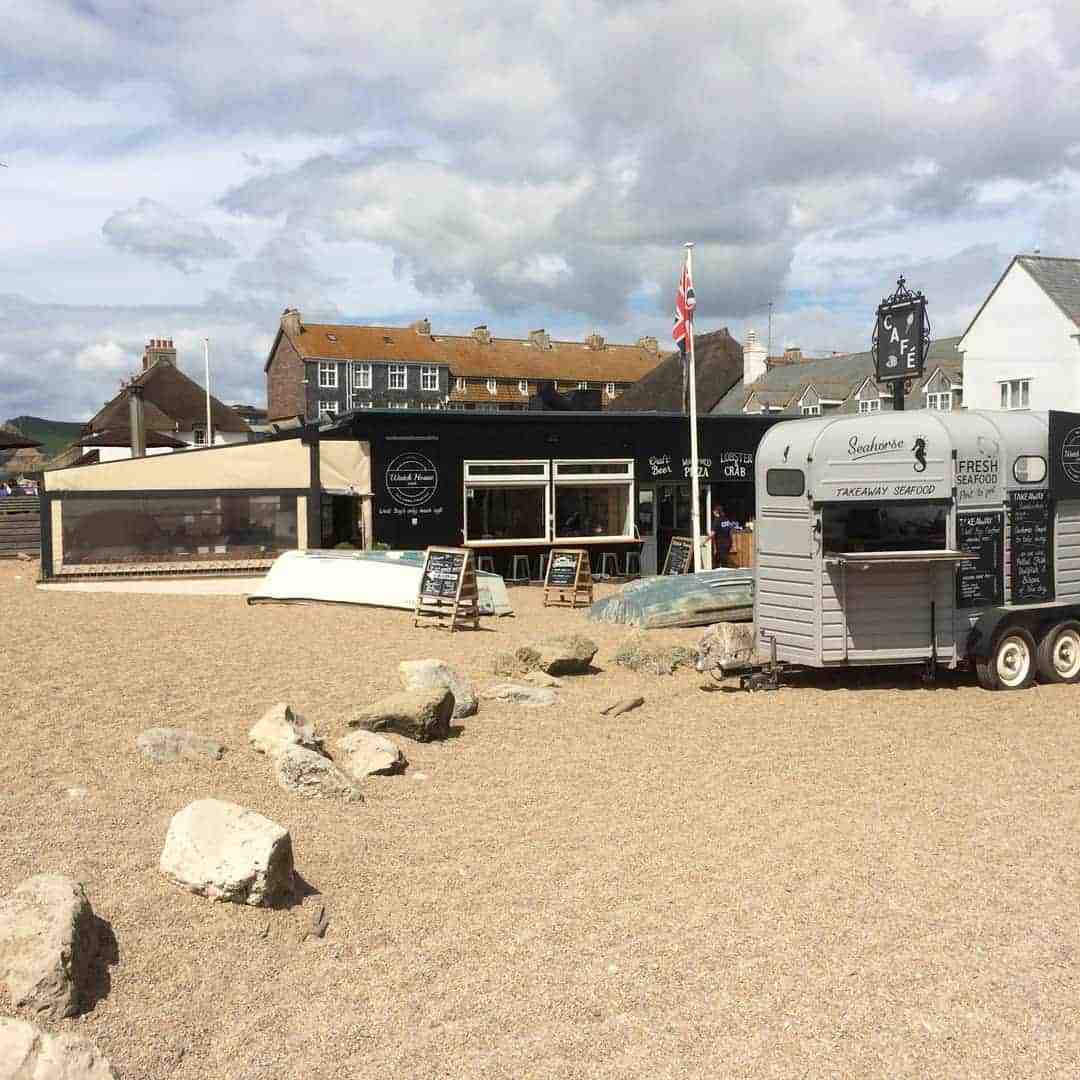 Oh and for the lovely The Watch House café , which sits right on the beach, in a really beautiful black-painted clapperboard hut. It's achingly good-looking on the outside, and once inside, the food didn't disappoint, with simple seafood favourites like a pint of garlic prawns or a crab sandwich. The perfect quick and easy lunch after a morning on the beach.
Brownsea Island and Poole Harbour
If you like the idea of getting away from it all, maybe packing a picnic and pretending you're in a Famous Five adventure (the locations in Enid Blyton's books were inspired by this area of Dorset), then I'd definitely recommend a trip to Brownsea Island in the stunningly beautiful Poole Harbour. Ferries to the island run every half an hour during the day between March and October.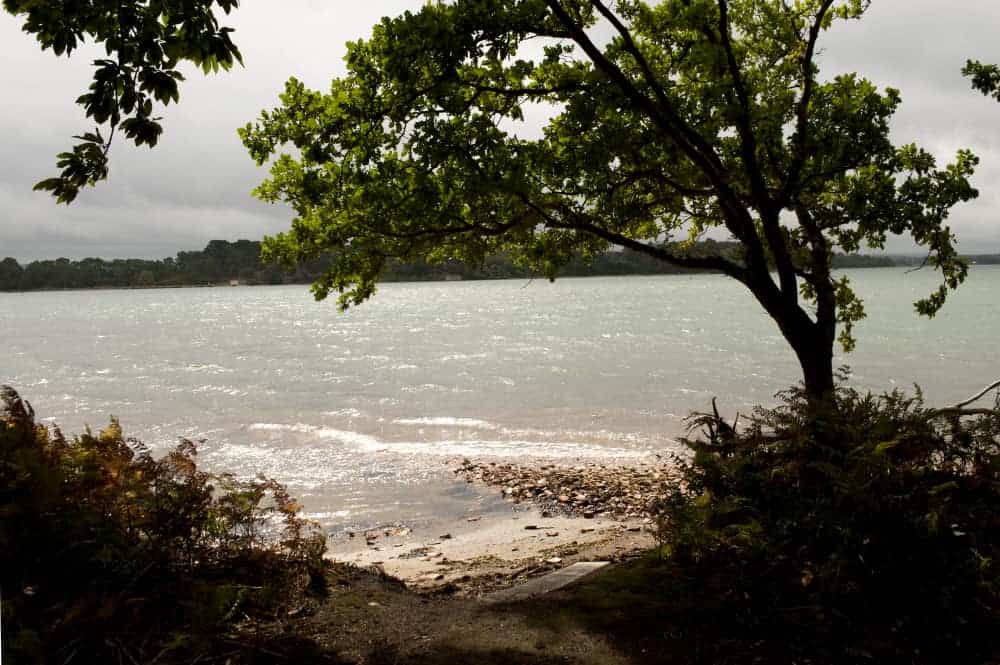 Once you're on the island, I'd recommend heading straight to the south side and down to the small pebbly beach, which, if you're really lucky, you might just have to yourself for a while and on a sunny day, you can enjoy the feeling of swimming in the shallow bay or lying on your own private beach, tucked away from the rest of the world. It's an all–too-rare feeling if you live in a built up area, and so nice that even somewhere as bustling as Bournemouth and Poole still has somewhere to escape from it all every now and then!
The Pig on the Beach
If picnic lunches aren't your thing, or if you fancy exploring a bit more of Enid Blyton country over on the Isle of Purbeck then a great place for a pit-stop is the beautiful and brilliantly laid-back Pig on the Beach in Studland Bay. With just the right mix of great food, and beautiful scenery, it's a lovely place to go with friends or the family, plus I just love the relaxed, beautifully decorated interiors that are characteristic of the growing chain of The Pig hotel/restaurants.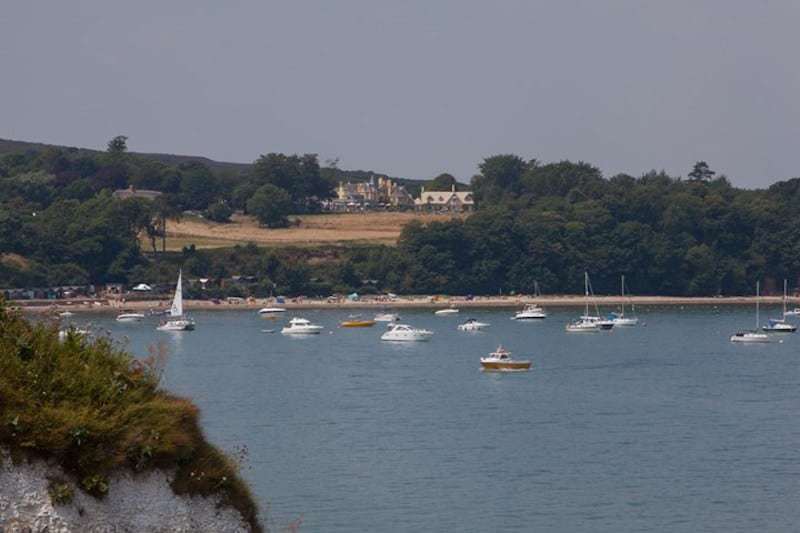 Mudeford Sandspit
If you're a beach-lover, then I'd definitely recommend a day trip to Mudeford. This small stretch of beach that juts out into the channel across the bay from Christchurch first came to my attention before we moved down to Dorset, and I heard that some of the beach huts which stretch all the way along the beach were going on sale for the same price as the average 2-3 bedroom house! Well, the huts are more like small holiday cabins and while beach huts are more often associated with the traditional English seaside, on a sunny day, this stretch of beach feels more like California, with families enjoying beachside living over long barbecue lunches or messing about in the harbour on paddleboards and in dinghies and small sailing boats.
If you're just visiting for the day, it's possible to soak up some of the atmosphere in the lovely beach café. There are two ways to get to the beach; both equally as fun (always my kids' favourite part of any trip there) and picturesque. The first is via a land train from Hengisbury Head, at the far east of Bournemouth. The train runs every half and hour throughout the day. The second option is to take a short ferry ride across the bay from Mudeford Quay; another stunning spot, and a great place to people-watch as well.
Westbourne Village, Bournemouth
Finally, I couldn't write about my favourite places in Dorset, without mentioning my own neighbourhood of Westbourne. This is a small suburb to the west side of Bournemouth. I love that we can walk down to the beach via the beautiful wooded Alum Chine in about 15 minutes. We're really still in the middle of the town, and yet  in the chines it feels a world away. The chines run from the town all along the bay between Bournemouth and Poole, and were turned into mini-woodlands by the Victorians. Every time the kids and I walk down the chine and are met at the bottom with a view of the sea and the wide open beach, it makes me smile.  After a bit of beach time, I love going for a coffee at the really lovely local independent café the Le Petit Prince, which offers great coffee and an amazing selection of patisserie!
Great local book shop
After which, I could quite happily spend an hour in one of my favourite bookshops, The Westbourne Bookshop. It's everything a good bookshop should be and with its old-fashioned good looks. It captures the feeling of a quintessential small bookshop perfectly. Run by the very friendly and helpful Angel family the service they offer is amazing. Anything they don't have they'll happily order for you. And if you're not quite sure what you'd like to read next, just ask for a recommendation! Even though it's only small, it has a brilliant selection, with an especially good children's section. The atmosphere is warm and welcoming, which is just right for browsing.
Food-wise there are some great options. A favourite for family-friendly eating is the award-winning Fish and Chip shop, Chez Fred. Be sure to order the wonderful homemade tartare sauce with your meal. I also love family-run Baffi pizzeria, who make authentic Italian wood-fired pizzas.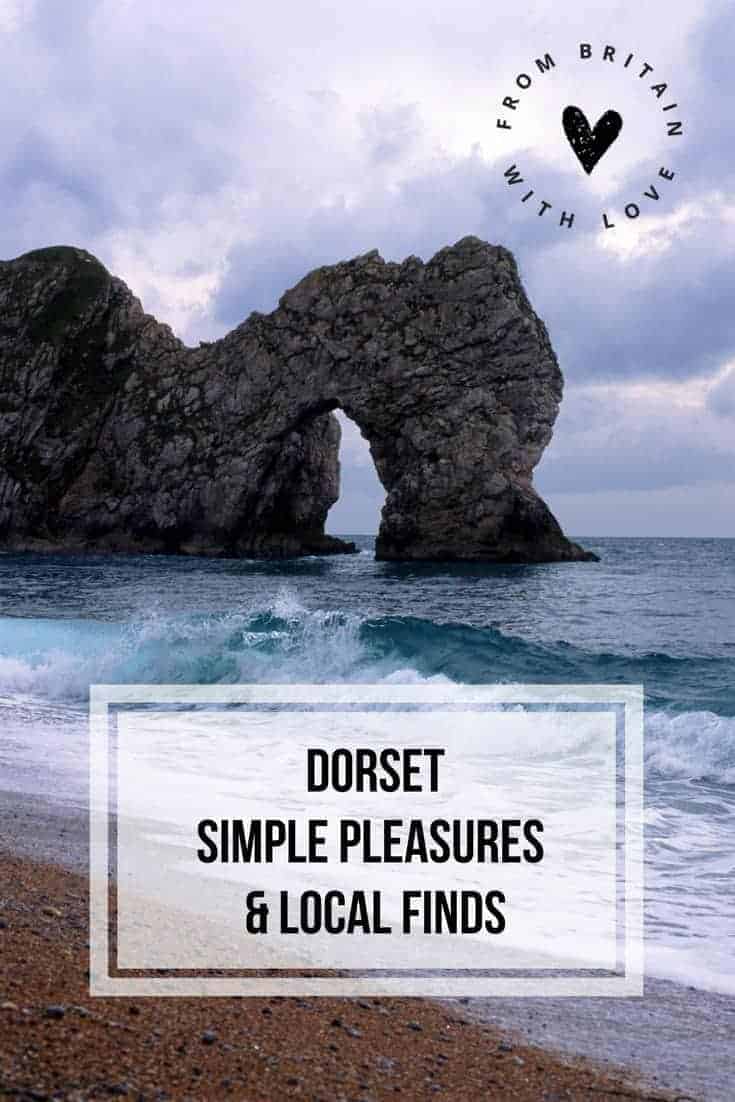 Get all the info you need to connect – and shop – with The Maker Place from the listing here >>
Main image credit: Photo Everywhere