Laura Dunkley explains why furniture designer Lucian Ercolani is her design hero. And why she loves some classics from the Originals range of furniture from Ercol.
More than 50 years after it was designed, the Originals range from British furniture manufacturer Ercol looks as contemporary and fresh as it did when it first launched.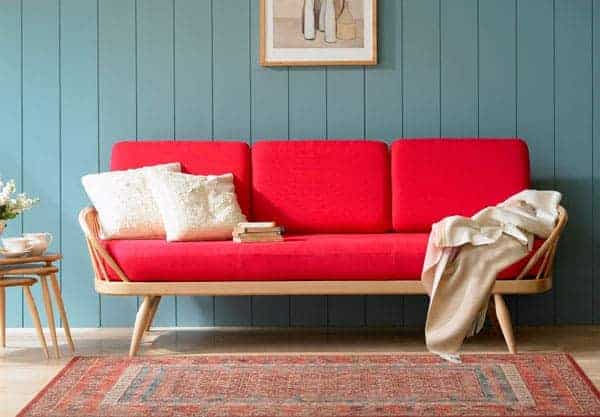 Shoreditch College of Furniture
Originally from Italy, Lucian Ercolani came to London in 1894 and went to study at Shoreditch College of Furniture. He then set up his own furniture factory, Ercol, in High Wycombe in 1920. His goal was to make furniture that was well designed and made in a good working environment by craftsmen who took pride in their work.
'Britain can Make it' 1946
The company exhibited at the 'Britain can Make it' exhibition at the V&A in 1946 and again at the Festival of Britain in 1951, where it represented the latest style and fashion in furniture design and manufacture.
Steam bending wood
Taking classic designs, Ercol gave them a lighter touch, by using pale woods and slender, tapered legs. New techniques such as steam-bending wood, so that it wouldn't warp, allowed them to create new shapes – such as the flowing lines of the brand's iconic Butterfly chair.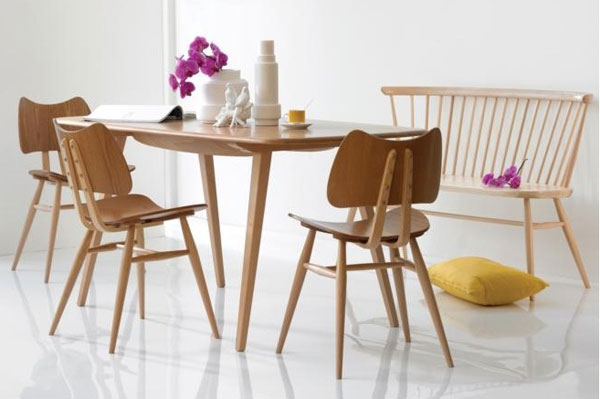 Butterfly chairs for Margaret Howell
Despite its status as a modern design classic, the Butterfly chair never sold in huge quantities and even went out of production in the 1980s. Then in 2000, the British fashion designer Margaret Howell asked if Ercol would make her a few Butterfly chairs for her shops. The chairs sold and sold.
"Thanks to Margaret, sales of the Butterfly started creeping up again and so we put it back into production," says  Edward Tadros, Ercolani's grandson and Ercol Chairman. "I think it has lasted this long because not only is it very comfortable but it's very simple and very pretty. It was a revolutionary design at the time. It had the classic Windsor base but the seat was in bent ply and that curve was new".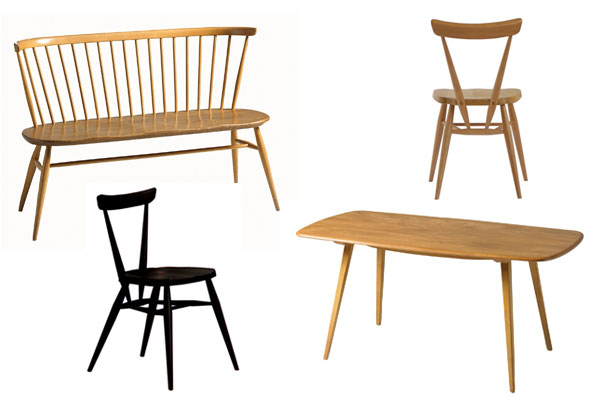 Iconic designs
Apart from the Butterfly chair, the firm's other iconic designs include the Stacking chairs, Plank table and Love Seat bench.  Added to this list are the Trio nest of three small pebble-shaped tables (below).
What I find interesting is how fresh and contemporary these pieces look now, with their clean lines and simple functionality. Great design is timeless. More than half a century on from when Lucian first created them, Ercol Originals are still hugely relevant and exciting.  In my book, they definitely qualify as iconic British designs.
Browse the Ercol Originals collection at www.furniturevillage.co.uk.