Nicky Sherwood visits the Flutterby Bakehouse in Chiswick to learn the art of sugarcraft on a fashion-themed cupcake decorating workshop – how to decorate fashionista cupcakes
I had been wanting to feature a cupcake decorating class for a while and was looking for something a little bit different, so when I came across the Flutterby Bakehouse's 'Ladies That Lunch' workshop I knew that this was one I had to try.
So on a sunny morning in October I made my way to Linda Rabie's beautiful West London home. The bright and spacious dining area had been laid out with all of the sugracraft tools we'd be needing, and there was chilled out music playing in the background making it a very relaxing environment for learning some new skills.
First of all, Linda demonstrated how to prepare the sugarpaste icing by working in some Trex vegetable fat to make it easier to work with and stop it drying out. Next she explained how to colour the sugarpaste using a tiny amount of gel colour on a cocktail stick as a little goes a very long way. I made up three colours: a dusky pink, plus a turquiose and lime green which were set aside for later.
Sugarpaste icing

Making the flip flops
Our first decoration was a miniature pair of flip flops. For the soles we used a cutter which Linda had commissioned specially for the job. A contrasting icing colour was used for the toe thongs and pressed firmly into place, before a tiny flower was added for a pretty finishing touch.
Next up was a wide-brimmed floppy summer hat to go with the flip flops. This was made using a round cookie cutter, then gently stretching the edges of the circle with a tool to create the frilled brim. A contrasting ribbon was added and a trio of flowers to complete the look.
Making the floppy hat
Making the handbag
Then it was on to a more adventurous piece… a handbag which was to be made from scratch. Linda explained how to roll out a rectangle and shape one end to create the front flap. Then she showed how to score the quilted effect into the sugarpaste using a roller – this required quite a steady hand and nerves of steel (don't forget to breathe!).
A small pillow shape of icing was then placed inside the bag to give it shape, before it was folded over and secured with a few dabs of edible glue. To finish, a tiny flower corsage was made using a punch cutter and applied to the bag, before being set aside to dry.
The final piece in our sugarpaste wardrobe was a glamorous high heeled shoe which was created using a special mould for the heel and shaped cutters for the sole, front and strap. We decided to roll small balls of pink icing into the green base to create a polka dot effect on the front and ankle strap.
Making the high heel shoe

Each of the four components are set aside to dry, using foam supports to help them stay in shape. Then we assemble the shoe using edible glue and a tiny flower decoration.

Our miniature fashion statements complete, it was time for a quick bite for lunch before heading to Linda's kitchen where we would be icing the cupcakes and assembling the decorations.
Icing the cupcakes
Linda demonstrated how to smooth the buttercream icing onto some of the cupcakes that she had prepared earlier. These are then dipped into a shallow dish of pearly cream sugar strands to coat the surface. This creates a firm base for our decorations.

Piping ivory buttercream roses
The next technique, which took a little practice to get right, was to pipe ivory buttercream roses. These would act as a support for our high heeled shoe decorations. When my rosy swirl is less than perfect, it's swiftly scraped back into the bowl. I have another go and this time it goes well. So well I end up with picture perfect rosepetal cupcakes. Even if I do say so myself!

The it was time to gather up our sugarpaste fripperies and put them on display….
Piping blades of grass
For our summer flip flips we pipe bright green 'grass' onto the remaining cupcakes. To achieve this effect we use a special piping nozzle. A sprinkling of tiny sugar paste flowers were added to complete the look.

At the end of a relaxing and creative day, I left Linda's with two cardboard cakeboxes filled with cupcakes. I had learned masses of information, tips and techniques. In fact, I have a feeling the school cake sale will never be quite the same again!
INFORMATION
---
Feeling inspired? Take a look at the Creative Workshops category in our Directory, where you'll find a variety of inspiring courses, from art and crafts to fashion and beauty, interiors, cooking and flower & gardening.
If you run a creative course that would interest our readers, please get in touch. Email us at editor@frombritainwithlove.com
---
A pin to share to Pinterest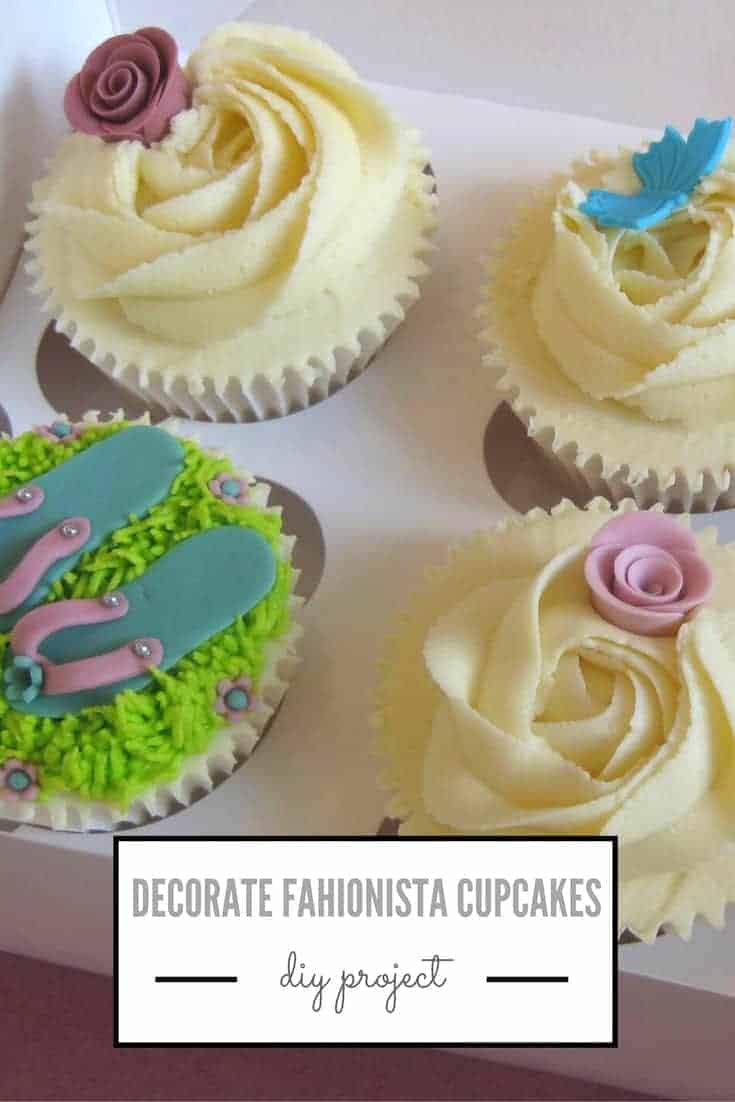 ---