If you're looking to create a simple rustic, country feel to your wedding, flowers are an essential part of this. Getting the right, simply beautiful blooms and foliage is key. As is putting together a selection of ideas that you like. If you haven't already, why don't you create a Pinterest board for your wedding flower ideas? That way you can put all your inspiring finds in one place, and show your florist exactly what you're trying to achieve. To help you on your way to finding the most beautiful country flowers for your wedding, we thought we'd share our favourites from some of the wonderful growers and flower suppliers in our directory.
Philippa Craddock
After starting a career in marketing and advertising, Philippa Craddock retrained as a florist. This was after the arrival of her first son and a move from London to the Sussex countryside. Natural sumptuous and abundant flower designs are what she loves to create and Philippa is now one of Britain's best-loved florists. Her accolades include: "Queen of London florists" by British Vogue and "a floral mastermind" by Tatler. We love her unfussy, individual way with foliage, colour and surfaces. Here are a few of our favourites of her rustic and country inspired wedding flower ideas.
We love this moodboard by Philippa for a wedding she did at Clifton Nurseries in London. There's a victorian botanical rustic feel that is so individual and perfect for late summer or autumn weddings. Combining rich purpley-black blackberries with distressed terracotta pots and simple garden string is such an individual and creative touch. Adding botanical greenery and flowers to distressed and weathered table surfaces works really well. As does mis-matched jars and bottles arranged with foliage and blooms on an old wooden ladder. It's the type of ladder you could definitely pick up at a car  It would work really well for a party or table setting if you took some of the elements and added your own details.
Photographer: Anushé Low 
And don't you just love the way Philippa has styled these big, blowsy hydrangea blooms along with a vintage bicycle for a Jenny Packham Bridal shoot?
For a winter wedding, this rich red and purple combination would be magical don't you think?
Sometimes, though, you can't beat the simple, pure beauty of white on white flowers with fresh greenery. How simply beautiful does this combination look? You could easily paint old vintage furniture with chalk white paint to get the look. A great idea for a pretty country inspired wedding on a budget.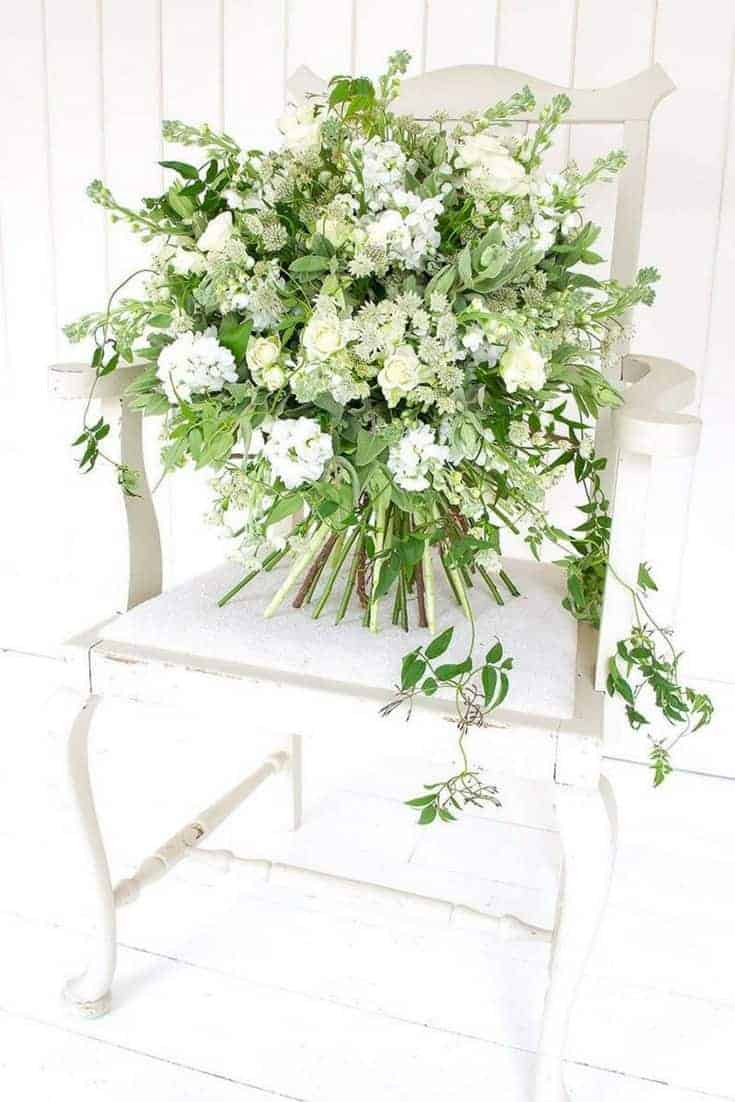 Philippa is listed in our directory. Get all the info you need here
The Real Cut Flower Garden
The Real Cut Flower Garden cut flowers are grown outdoors on the Herefordshire borders and sent out beautifully prepared and packaged within a day of being picked. They also offer a range of floral workshops to teach you ways to get creative with flowers.
Charlie Ryrie started the business because of her deep love of gardens and traditional flowers. She spent two decades as a journalist writing about gardens, the environment and ecological design, and has always had a passion for flowers. In 2002 she bought a field, and in 2004 started sending out flowers to customers nationwide, and making stunning arrangements for weddings and events. We love the relaxed rustic feel to their flowers.
Love this old milk churn overflowing with delphiniums, white Canterbury Bells and other traditional cottage flowers. How pretty and informal does this look for decorating the entrance to a country church?
Love this idea for adding relaxed country style to your tables. Casually arrange flowers, foliage and wild flowers into different size glass jars, simple vases and milk bottles.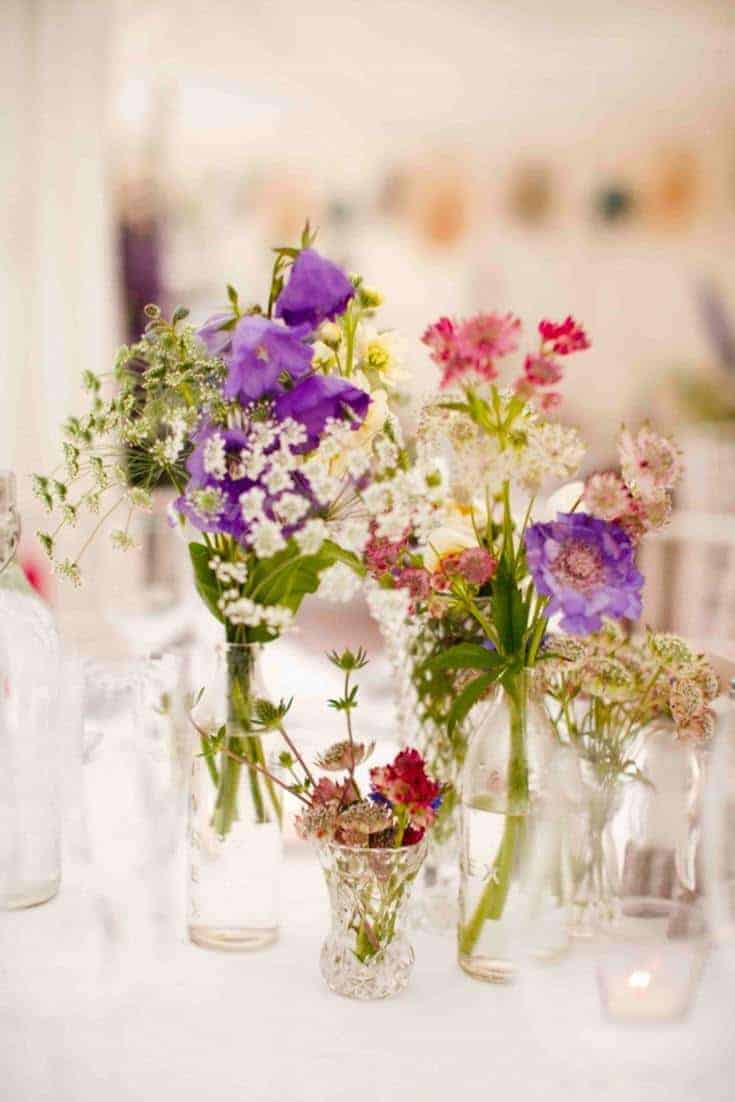 Another lovely idea is to use a vintage galvanised bucket to hold bunched blooms and greenery. Love how simple country flowers and foliage are very informally arranged with blowsy and beautiful peonies.
Talking of peonies, how pretty is this simple hand-held bridal bouquet by The Real Cut Flower Garden? Love how the colours clash slightly and the arrangement is so informal, allowing the beauty of the flowers to speak for themselves.
The Real Cut Flower Garden is listed in our directory. Get all the info you need here
Green and Gorgeous Flowers
Professional gardener Rachel Siegfried's idea for a flower farm and floral design studio was germinating long before the start of her thriving business nine years ago. Working in a walled garden growing organic vegetables and cut flowers, Rachel was aware that the abundance of beauty and scent that surrounded her was missing from the commercially grown flowers available on the high street. We love the individual and informal style of Rachel's flowers.
Vintage tin wheelbarrow full of beautiful scented old-fashioned roses anyone? How beautiful does this look? Great idea if you're looking for individual and unusual touches for your country wedding.
And if you have little bridesmaids, why not have a go at making your own floral headdresses using fresh, country flowers. This one by Green and Gorgeous Flowers combines rosemary, roses and daisies. If you don't feel confident enough to make them yourself, check out the floral workshops offered by Rachel and her team. (details at the end).
We also love the styling of this country brights look. Have the confidence to clash pinks, oranges, reds, yellows and lime green. Love how big blowsy peonies mix with pretty and delicate buttercups, sage leaves and cornflowers.
Like this next one because of the way the soft, distressed vintage green paint is mirrored by the pastel green foliage. Perfect for a vintage country look.
If you have vintage wooden chairs, consider using them to display your country flower arrangements. This old and slightly broken chair looks so great with these roses, anemones, tulips and blossom twigs doesn't it?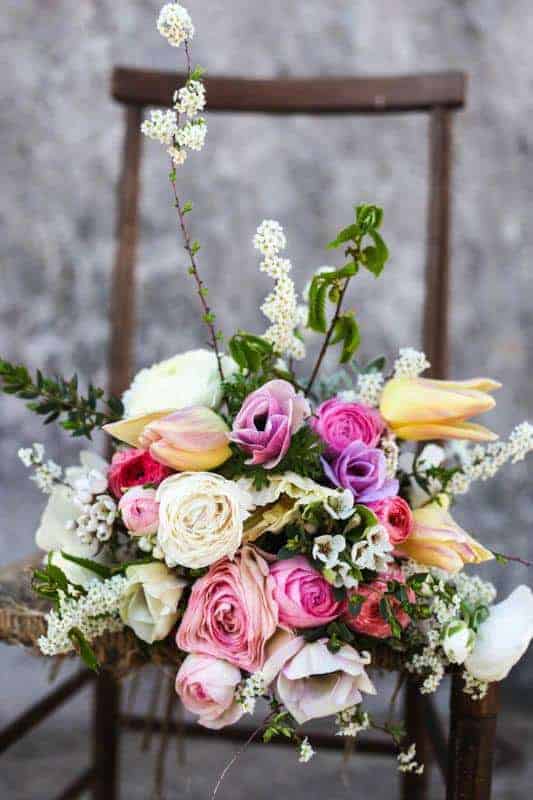 And don't forget your faithful four-legged friend. Depending on the breed you have, and how willing they are to go with you on this, flowers around the collar can look great. Not confident it would work with my dog. He's a cocker spaniel and I suspect he'd have eaten the flowers before they were even fully tied on…
Green and Gorgeous Flowers are listed in our directory. All the details you need are here