It's easy to see why Clothes Doctor eco laundry products are gaining such a great reputation and loyal following.
Clothes Doctor have developed a range of eco-friendly clothing care products which work hard to prolong the life of your garments, whilst helping to reduce fashion waste. Their products are made in the UK, using all natural and vegan-friendly ingredients as well as zero waste packaging.
If you're going to buy just one bottle of Clothes Doctor eco laundry washing liquid, I'd suggest you start with this one. It's their signature wash and is suitable for general laundry.
It is a non-biological formula which is gentle, effective at stain removal, and free from toxins and harsh chemicals. It is perfect for use at low temperatures and has a blissfully refreshing fragrance.
Made in the Clothes Doctor Cornwall workshop with natural and cruelty-free ingredients, this eco-friendly clothes washing liquid has been rigorously tested for safety and quality to ensure No. 2 cleans, refreshes and revives your everyday garments time and time again.
Directions of use – Machine: Pour 3-4 caps of wash into your machine drawer and place on a regular low temperature water cycle. For hard water or heavy soiling use double quantities.
Size – 250ml (up to 14 washes) or 500ml (up to 28 washes).
Save money with Clothes Doctor's zero waste and vegan laundry set. It's the complete solution to give you low temperature machine washing and gentle hand washing.
For the perfect washing experience every time, these three eco laundry detergents are for those who believe in caring for their clothes and protecting their skin from toxins, all without damaging the planet.
Included in the set:
1 – The Signature Eco Washing Detergent (250ml): a gentle but high performing eco-friendly powder, perfect for machine washing at 30 degrees.
2 – The Cashmere and Wool Eco Wash (250ml), which has amazing all-natural properties for cleaning your cashmere and woollen items, whether for a cool hand wash, or a delicate machine cycle. Fragranced with patchouli and bergamot and containing natural moth deterrents.
3 – The Silk Eco Wash (250ml), a wonderfully fragrant delicate wash for silks and silk blends, to be used in a cool hand wash.
Size (per bottle) – 250ml (up to 14 washes).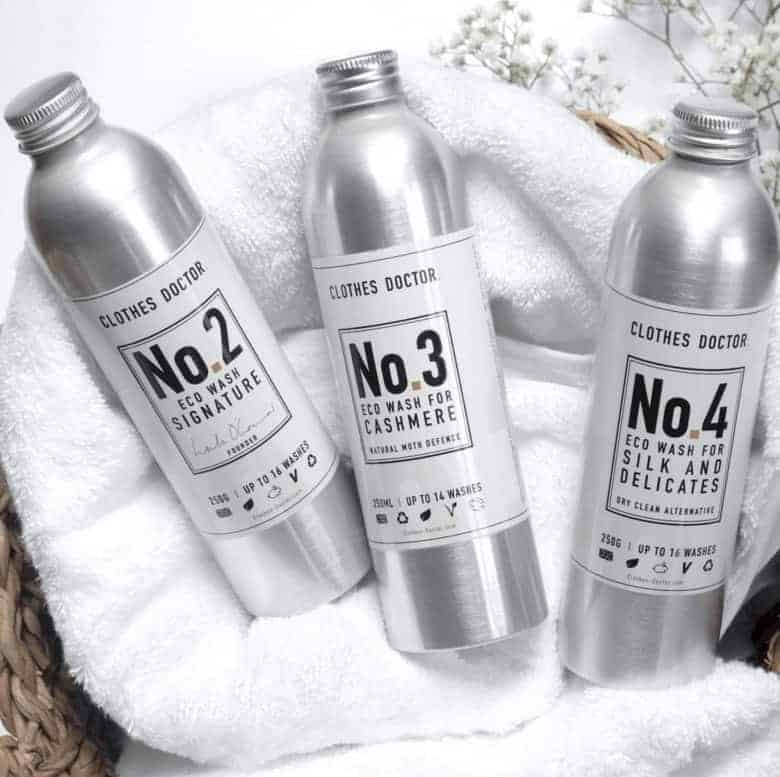 Give your favourite cashmere or wool garments a refresh and a new lease of life! When cashmere or wool garments are starting to look tired or bobbly, this sustainable beechwood clothes comb works wonders to tidy them up
No.20 is hand-made from carefully selected unstained, untreated & uncoloured sustainable beechwood providing it a unique and authentic appearance for each comb. Its functional non-snagging tooth design is easily cleaned and the 3D engraving is made in a traditional way, with no artificial dyes or chemicals used.
Use every month to keep your knitwear looking like new as part of your wardrobe maintenance routine. Whilst the comb will last, we recommend you replace the comb every now and then to provide a fresh edge. Old combs can be returned or recycled!
Browse the Clothes Doctor collection on Wearth here
INFORMATION
---
This article contains affiliate links, which means we may earn a small commission if a reader clicks through and makes a purchase. All our blog posts are independent and in no way influenced by any advertiser or commercial initiative. By clicking on an affiliate link, you accept that third-party cookies will be set.
Find Wearth listed in the Ethical Shopping section of the From Britain with Love Directory
You might also like
You might also like our blog post: Meet Imogen Minoli of Wearth where company co-founder Imogen shares one or two of her simple pleasures, sources of inspiration and the story behind her ethical UK business
Are you a maker or creative course provider? Like to list with us and benefit from joining our supportive community? We'd love to hear from you. Check out the packages we offer on our Join Us page and get more details from our Information pack here
---
A PIN TO SAVE TO PINTEREST
If you've enjoyed discovering Clothes Doctor laundry products, it would be great if you could share the love. All you have to do is hover over the image below until you see the Pinterest button appear. Then share it to your boards. Thank you! X