Clare Kelly takes a peep inside new craft book Homemade Gifts Vintage Style
 by Sarah Moore and finds inspiration between its beautifully styled pages. We love this simple idea for breathing new life into little vintage suitcases.
We're often told not to judge a book by its cover, but when I saw the nostalgia-inspired cover of Homemade Gifts Vintage Style
I just knew it was going to be a beautiful book – and it does not disappoint.

5o creative ideas
Packed with 50 ideas to inspire you on a chilly wintery day (and throughout the seasons) it's the perfect gift. Also for treating yourself. Author Sarah Moore is a collector with a particular interest in vintage textiles, papers and crockery, and her enthusiasm is evident in each perfectly put together project – whether it be simple ideas with antique decanters or handmade plush toys.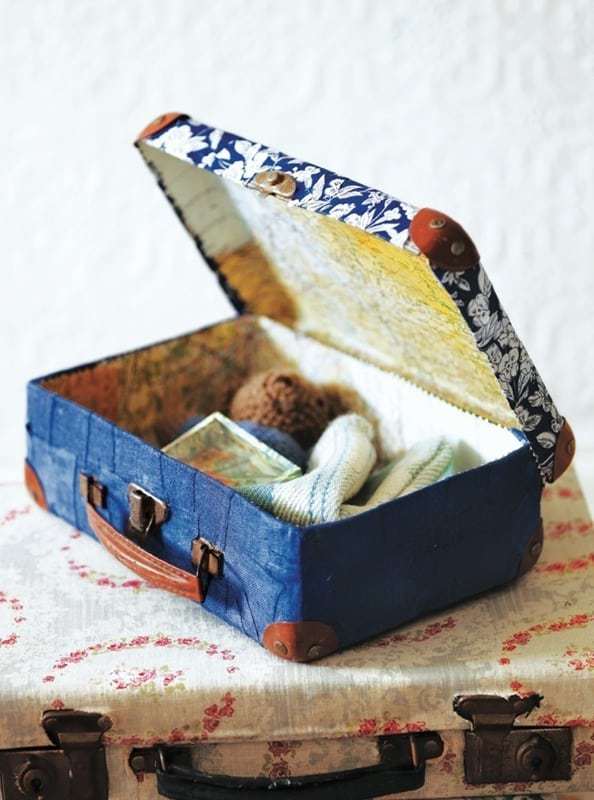 Sarah writes with real personality and there are lots of creative short cuts. Love her idea to make gloves made from old garments. Handy templates can be found at the back of the book for easy reference. Sarah offers helpful insights and tips to help you source the best vintage pieces for your projects.
This book will keep you busy over the winter months and will definitely appeal to those who love upcycling.  If you want to add a little individuality to your home you'll love these hands-on projects . They include unusual fabric covered notebooks, super cute pet cushions and pretty beaded door hangings.
The photography and styling in the book is gorgeous, inviting you into a real home setting and at once making you feel warm and cosy. Homemade Gifts Vintage Style
will show you how to look differently at the items you already have and demonstrate that, with a little know-how you can create simple, pretty gifts that you might find hard to part with!
INFORMATION
---
Homemade Gifts Vintage Style
by Sarah Moore is published by Kyle Books, priced at £16.99.
Clare Kelly is a freelance craft writer and author of the blog Pass The Pattern
Feeling inspired? Take a look at the Creative Workshops category in our Directory, where you'll find a variety of inspiring courses, from art and crafts to fashion and beauty, interiors, cooking and flower & gardening.
If you run a creative course that you think our readers would be interested in reading about, do get in touch by emailing laura@www.frombritainwithlove.com.
---
A pin to share to Pinterest