Meet Basma Alshather founder of Basma Design luxury silk scarves made in the UK using ethically sourced silk.
Please describe what you do, and tell us a little bit about your journey
I have a background in design and ceramics and there was definitely a lightbulb moment when I launched Basma Design silk scarves. I was involved in a printmaking workshop where I found myself looking at the prints and visualising them printed on textiles.
Initially, I was thinking of designing for interiors and furnishings products such as cushions and rugs. After speaking to a number of people I came to the conclusion that a silk scarf was the perfect vehicle for translating this concept into wearable art. It's an easy to wear accessory and the luxury quality can add a style and chic to any outfit at any time.
Please tell us a little about your inspiration and ethos
From Day 1, my inspiration has always been this concept of art as fashion, or rather of wearable design on textiles. For this reason, the ethos of Basma Design is and will always be 'wearable art'
I wanted to use my full name. However my last name is not the easiest to pronounce so I decided to combine my first name with my creative background and Basma Design was born
Favourite way to start the day?
Having a hot drink while checking on my To Do list for the day. I usually start at 8.30am and reflect on the day ahead what I hope to achieve.
Top tips for enabling creativity?
In my experience, reading a book, visiting an exhibition or even having some quiet downtime and a mindful walk. All of these things can give some space and time for any ideas to spring into my mind. Too much routine can drown out new ideas and creativity.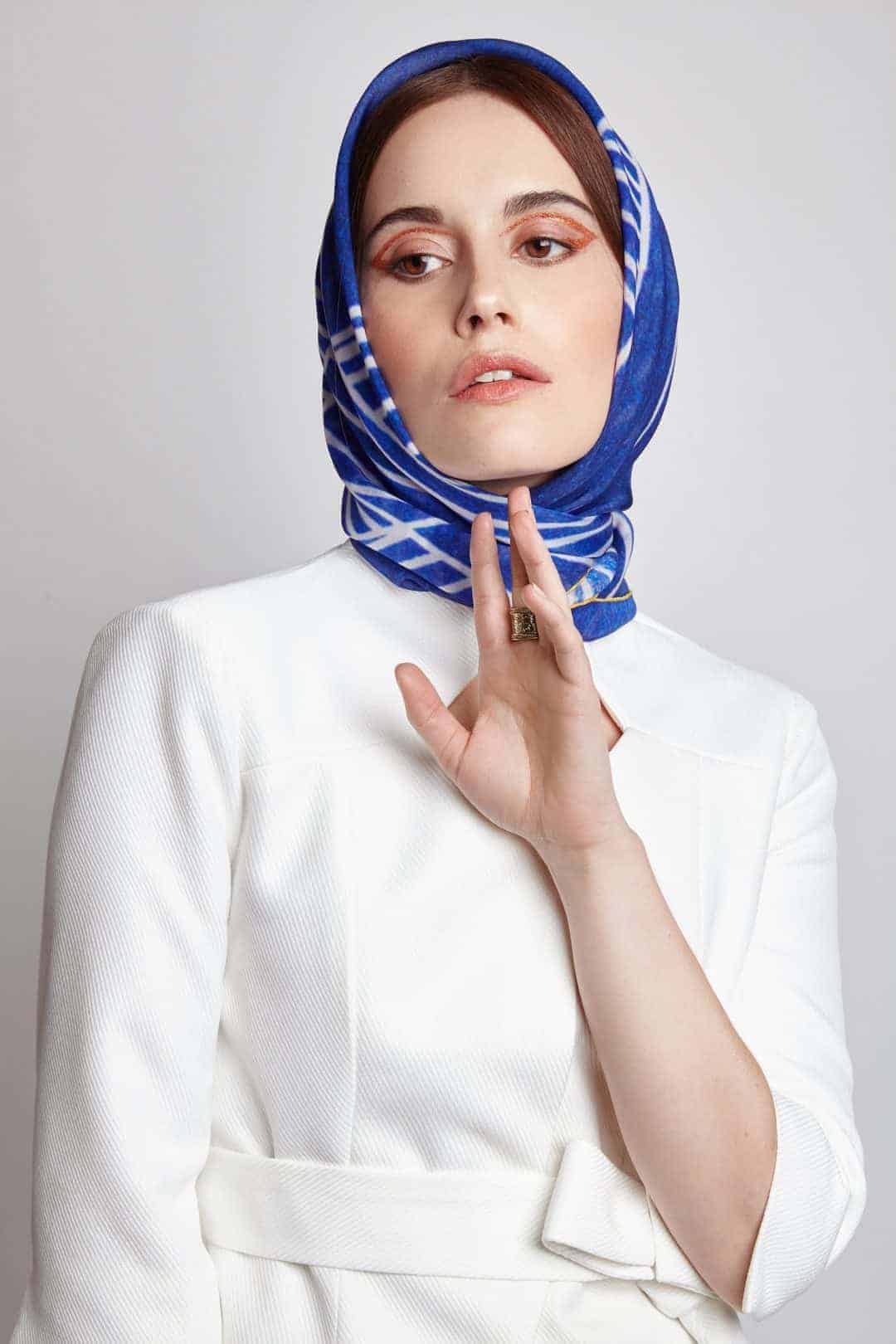 What do you do when struggling for creativity?
I just stop, move away and do something else. Usually go for a long walk and that seems to work for me.
What is your approach to setting and achieving your goals?
As a start up, I have a set of goals and objectives but I often adapt them as I learn and circumstances change. It's important to stay open minded to opportunities and, as a small business, I have the flexibility to do this.
I usually look at my short term goals once a month. I have a list which I work through and 6 monthly goals, which are more medium term objectives. Since I'm still in my first year, I find a firm, fixed long term plan unfeasible at the moment.
After the first year, I'm confident that I'll have more consolidation and clearer long term plan but right now I'm balancing a vision with an open-minded attitude.
Can you sum up your ethos and what inspires you?
This might not necessarily involve business and design but it's the way in which I look to conduct my business, which is an extension of me and my personal values.
My ethos and motto in life is that we are here to help each other to make the world a better place. In helping each other, it doesn't matter how big or small our gesture is.
Favourite British design icon?
The Angel of the North by Antony Gormley. It always strikes me as the most breathtaking sight whenever I pass it on on the M6.
As an artist myself, the meaning behind the sculpture doesn't matter to me as much as the creative process behind it, but according to Gormley the significance of an angel was three-fold: first, to signify that beneath the site of its construction, coal miners worked for two centuries; second, to grasp the transition from an industrial to an information age, and third, to serve as a focus for our evolving hopes and fears
You see it once and it's never forgotten. Obviously it has a huge impact on the environment and surrounding area, but equally the image will stay with any visitor passing by.
How important is making in the UK to you?
Designing and producing in the UK is extremely important to me. I passionately believe in supporting the local community and what better way to do this than by collaborating and working together as producers and consumers? Making and buying British is critical to our heritage, creative health and of course to our economy so it's central to the DNA of Basma Design.
I was interested to read that 39% of International consumers prefer to buy British products – according to a recent global survey by Barclays Corporate Banking. The British fashion industry is hailed as the pinnacle of quality merchandise with London serving as a stamp of credibility, so I'm incredibly proud to be a part of this community. It's well known that a British made product can justify a premium price and our customer appreciates this today.
Despite the challenges and small scale costs of taking this uncompromising route, I know it's the only sustainable way forwards. I recently learned that around 51% of international shoppers would hold out for a British product, rather than buy a non-British alternative. How encouraging is that?
Basma Design is very much the business face of my own principles and I'm a strong believer in supporting the local economy and sustainable practices. Our beautiful silk scarves are proudly made in the UK in an established small factory in Cheshire. With individuality, self-expression and empowerment in our DNA, we love to offer a little bit of British quirkiness in our edgy, artistic designs.
photo credit: Saffron Blaze
Best place to unwind/escape to in the British Isles?
I just love the Cotswolds. Whenever I visit, I'll discover little independent shops selling beautiful, unusual products. Of course, the scenery and landscape is truly wonderful too and I find it very nourishing creatively. I've always found the locals really welcoming too and rightly very proud of the region's heritage. There's a lot of history from the Industrial Revolution throughout the area, which is a great reminder of our roots and the importance of preserving British manufacturing.
Best piece of advice you could share based on your experiences so far?
This is not my advice but advice I was given and I think it's worthy of repeating:
Anything is possible. There is no such a thing as impossible.
Most limitations are those we place on ourselves.
What are you listening to/reading/watching right now?
I'm currently reading the History of Bees. A complete change from my work and a fascinating book looking at the different eras of bee cultivation and the many processes involved. It covers bee-keeping in the past and present across the world and looks to the future of this very special practice too.
What do you think is the secret to being happy?
I don't believe there's a secret. The alternative is being miserable and what a waste of time and energy that would be!! I do believe that immersing yourself in a discipline or practice you enjoy and 'creating' or 'producing' can have enormous therapeutic benefits.
Goals for the future?
I am approaching the end of my first year in business and my goal is to grow the brand along the principles and values I set out from the start. I feel very encouraged that the world of business, fashion and culture is really attuned to establishing a sustainable future and I'm confident that the Made in Britain movement will go from strength to strength.
INFORMATION
---
Are you a maker or creative course provider? Like to list with us and benefit from joining our supportive community? We'd love to hear from you. Check out the packages we offer on our Join Us page and get more details from our Information pack here