Must-have outdoor living essentials for a blissful summer.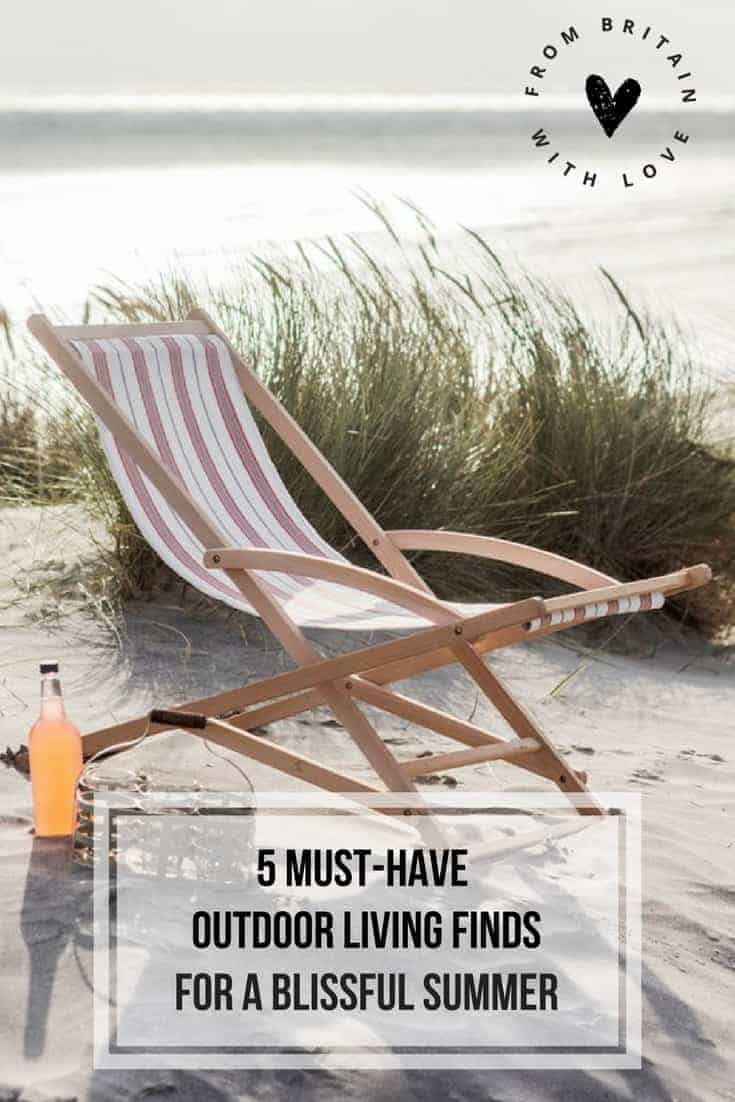 Summer's here and there's still plenty of time to kick your shoes off and make the most of every day. When the sun shines – and when it doesn't – getting outside and letting life slow down is what it's all about. Whether you love to spend this time in your own garden, by the beach or out and about, we wanted to share our favourite garden and outdoor living finds with you. We hope you love them as much as we do!
1 The Odd Rocker – for blissful comfort outdoors
What's so special about these luxury upholstered swing seats, made by hand in Oxfordshire by ODD, is that they are every bit as comfy as having your real sofa in your garden all summer. The canvas is water and rot resistant and the seats fold away again for winter storage. Not cheap, at £3,289 for the Original Old Rocker, but so beautifully made, it will last you forever. Utter, total bliss.
ODD are listed in our directory. Get all the info you need and make contact here >>
photo credit: Garden Trading
2 Rock yourself to sleep in the Rocking Deck Chair
A good few notches above the usual deckchair. Love the simple, coastal stripes of the 100% cotton sling. Also love that it can be removed and machine washed at 30 degrees to keep it looking fresh. Best of all, though is that you can rock yourself to sleep in the sunshine. Available to order online from Sarah Raven's shop and costs £79.95.
Sarah Raven is listed in our directory. Get all the info and make contact here >>

3 Snooze in a woven Willow Den
Imagine snoozing cocooned inside one of these gorgeous willow dens hand woven by Judith Needham. Sheltered from the wind, and shaded from the hot sun, you can curl up inside, enjoying the view. The organic shape and natural willow mean these dens look at home in your garden amongst the flowers. Equally, they can look stunning brought indoors in an open plan interior. Judith can only make these dens in the Spring with freshly cut willow but she is currently taking orders for delivery from January next year. Plan ahead and look forward to picking the right spot in your garden, as well as arranging your blanket and cushions inside as soon as we get warm sunny days next Spring.
Judith Needham is listed in our directory. Get all the info and make contact here >>
4 Have fun arranging cut flowers
I've spent some of the best days ever at workshops learning how to do creative things with flowers. What I particularly love about The Real Cut Flower Garden workshops in Herefordshire is that they grow all the flowers themselves and their style is natural, uncontrived and a little bit on the wild side. Just how flowers should be, don't you think?
The courses run throughout the year, and include coffee and a light lunch. Can you imagine anything nicer?
The Real Cut Flower Garden is listed in our directory. Get all the info and make contact here >>

5 Take a proper chair out and about with you 
We loved this Stowaway Beach Chair by Denys & Fielding as soon as we saw it. Beautifully hand made in Kent from sustainably produced sturdy wood with vintage-inspired fabric seat, it folds flat to go easily in the boot. Perfect for relaxing in style – and comfort – on the beach or on a country picnic. And because it splits into two and folds completely flat, there's plenty of room left in the boot so you don't have to skimp on the picnic treats! Also great for taking to outdoor concerts, festivals and the like. I'm thinking it's worth keeping one in the boot at all times just in case… The Stowaway Beach Chair costs £85 and is available in 5 Denys & Fielding signature fabric designs.
Denys & Fielding are listed in our directory. Get all the info and make contact here >>