10 most beautiful Christmas decorations
If you're looking for some special festive decorations – the kind you will wrap up with care each January and pass on down the years – I think I've found just the place. Heirloom Art Co is a beautifully curated collection of online loveliness. Based in the US, the collection includes some very special UK-made goods, including Welsh blankets, brass and stoneware from England and one-off Scottish wool throws and knitted bags.
I just popped in quickly to their online store to see what they have in for Christmas and, as usual, I was instantly captivated. I thought I'd share my favourite 10 festive finds with you in case they make you feel the same way…
10 beautiful Christmas decorations
How exquisite is this brass and glass bead mistletoe? Hang it above a doorway, in your hallway or the particular spot in your home where you'd like to be kissed – year after year after year…
I love the delicacy of this little candle holder – and its Scandi sensibilities. It will mix beautifully with foraged greenery – I'm tempted to look for some fresh pine snippings and cones to mix in and around…
Sticking with the brass/gold and evergreen idea, how lovely is this gold metal candle holder for the tree? I've always loved the idea of having real candles on there, so this would be perfect.
I love this looped wooden bead garland don't you? Hang it above windows to frame a Wintry view, below mantelpieces or across walls to add a splash of natural festive colour and decoration. Just lovely.
I love this – and I know my children will too! Nudge the pendulum and watch Father Christmas swing his staff while the donkey nodes its head and swishes its tail. A little bit of cleverly engineered festive magic that will be looked for every year when the box of decorations is opened up again.
This beautiful matte white ceramic votive decoration is decorated with characters from The Nativity to help create a focal point of festive light.
Just the prettiest painted wooden Dala horse decorations – each set of two inclues one white on red and one red on white. The perfect way to add a traditional scandi feel to your festive decorations.
This hand-carved Norwegian flower girl candle holder really is very special.
Housed in a three-hundred year old timber home in the snow-covered hills of Norse countryside, Henning carries on their Norwegian tradition of woodcarving, begun in 1947 by Henning Engelsen. His two daughters have carried on their father's woodcarving tradition, carving the same figures their father did, having learned by carving at his side in their childhood and youth.
These Norwegian Flower girls are carved and painted entirely by hand.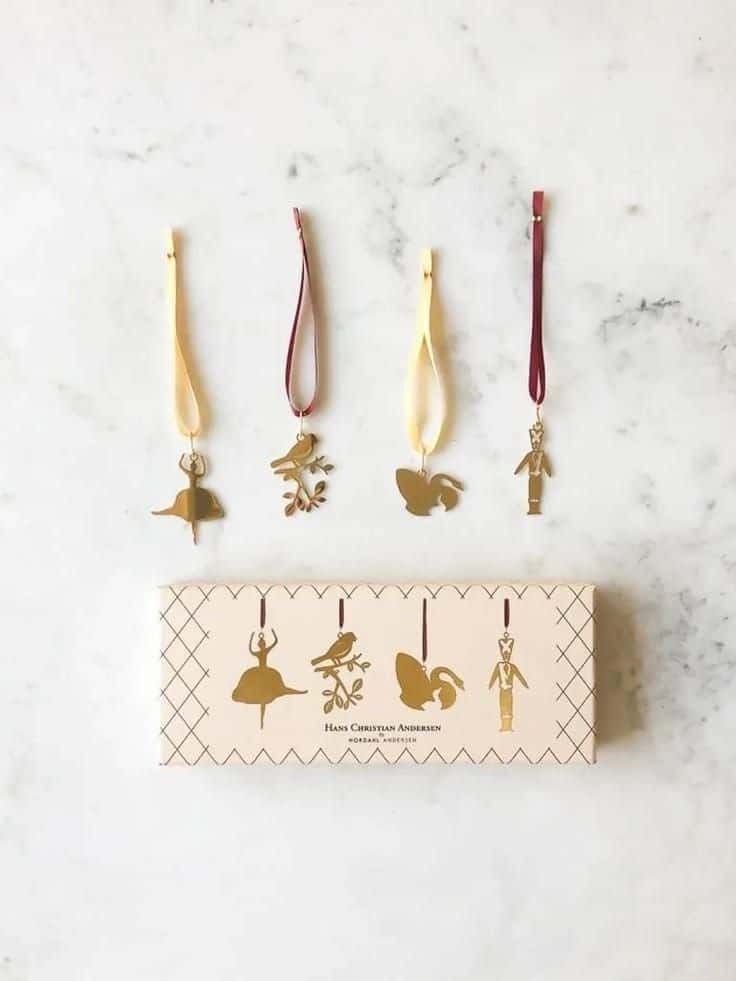 There's a choice of different boxes – or individual decorations – in this magical collection – all inspired by the fairy tales of Hans Christian Anderson and starting at $16.
Hand-painted on both sides, this pewter nativity decoration is made to stand where you'd like to place it. I love to create little clusters with my decorations, along with some foraged greenery, cones and a candle or two. This would create a special festive focus and will last for years and years, only getting more precious over time.
I hope you've discovered something that finds its way to your Christmas decorations box and give you and your loved ones pleasure for years to come.
INFORMATION
---
This article contains affiliate links, which means we may earn a small commission if a reader clicks through and makes a purchase. All our blog posts are independent and in no way influenced by any advertiser or commercial initiative. By clicking on an affiliate link, you accept that third-party cookies will be set.
You might also like to discover other festive ideas:
Christmas gift wrapping ideas, ethical and natural
How to knit a Christmas stocking
How to make glass Christmas decorations and glass bunting
Christmas flower arrangements – simple rustic DIY ideas to try
How to make a contemporary Christmas wreath
Christmas candles handmade & natural
Are you a maker or creative course provider? Like to list with us and benefit from joining our supportive community? We'd love to hear from you. Check out the packages we offer on our Join Us page